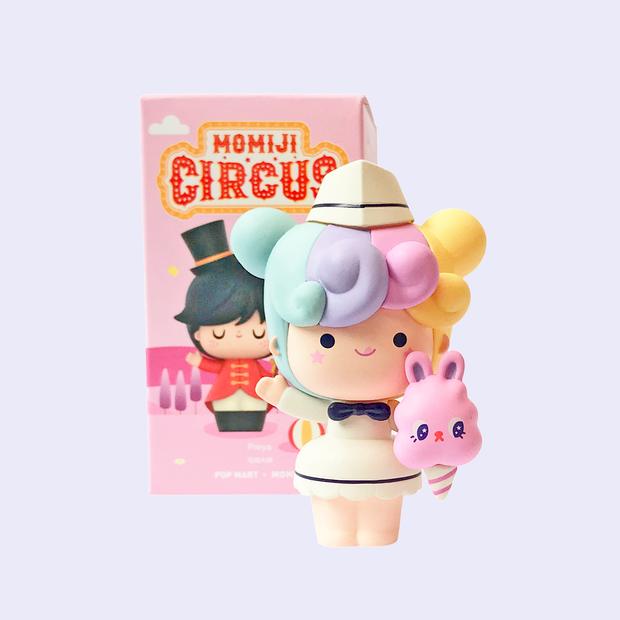 A new craze is sweeping across China and that is the 'Blind Box' toy phenomenon. Popular with young Chinese buyers, the mystery provides a good deal of excitement and the fact that some of the blind boxes contain rare or collectable items has fuelled demand of late.
Those that happen to come across rare toys are turning to the collector's market to resell them for a tidy profit. Even the numerous duplicate toys that people happen to come across have fuelled a bustling second hand market online.
Toys are typically just a few inches in size and can be pop art, film characters or even rare mini-archaeological pieces. Many of the individual toys are parts of ranges, and a complete range could be worth a lot of money even if the individual elements are not so rare.
18-year-old music student Wang Zhaoxue who has a collection of mystery toys that numbers into the hundreds, was quoted as saying, "It was something quite novel, which got my attention," adding that the mystery element made it quite fun, "if you shake it, and then feel the box, you can sometimes deduce what's inside."
The new craze has allowed some toy makers to make big profits at a time when toy sales may otherwise be flat.
Steffi Noel, a consumer analyst at Daxue Consulting, was quoted as saying, "One of the reasons behind the success of blind boxes is that they divide their products into different categories of rarity," adding, "They set a barrier, expressing the idea that not everyone can get the most special boxes. It generates a sense of competition."
The blind box market is expected to be worth up to 30 billion Yuan by 2024, up from 7.4 billion Yuan in 2019.
Japan's Sony reveals biggest ever profit
Tokyo-based consumer electronics company, Sony, announced record profits for its latest financial year, citing the popularity of its gaming consoles as a driver of growth during the pandemic.
Net profit surged more than 100 per cent year-on-year to 1.17 trillion yen (US$10.7 billion), on revenue of 8.99 trillion yen.
Hideki Yasuda, an analyst at Ace Research Institute, was quoted as saying, "The impact of lockdown demand on its game sector was sizable though the pandemic hit revenue from movie theatres hard," adding, "Sony experienced both positive and negative aspects of the coronavirus, but overall, the pandemic benefited Sony a lot."
As it announced its record results the company forecasted lower profits for the next financial year as the potential for gaming console demand may potentially wane going forward.
Laos based power company seeks regional alliances
EDL-Generation Plc., (EDL-Gen), a majority Lao state-owned power generation company is looking to secure private partnerships with companies in the region to increase its power generating capacity. It plans to add 25 per cent to its current 1,949 megawatts power generation ability by 2029.
Hydroelectric plants using both reservoirs and river run-offs will play an important role in the expansion, with up to 15 plants in the planning stage.
EDL-Gen currently commands 17 per cent of the power generating market in the country. Within the next 20 years, Laos plans to produce up to 30,000 mega watts of power, exporting much of it to neighboring countries such as Myanmar, Thailand, Malaysia and Singapore.
Managing director of EDL-Gen, Duangsy Pharanhok, was quoted as saying, "Our target will not only strengthen energy security in Asean but also follow the global trend of green energy development."