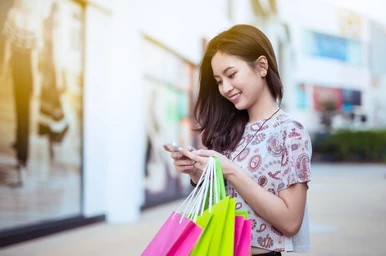 Although shopping malls have remained popular in Bangkok, the multi story department stores, that are usually to be found within or at the side of a mall, have seen declining footfall in recent years.
This is even in spite of the fact that they sell massive ranges of designer clothes, footwear, fragrances, electrical appliances, kitchenware, toys, furniture, household products and much more. On top of that, they often specialize in stocking international brands that have been painstakingly imported into Thailand.
Still, the question is, do people go out to visit department stores or is it mainly the variety of dining and shopping options in the connected mall that they are interested in?
Jariya Thumtrongkitkul, head of advisory and transaction services (retail) with CBRE Thailand, was quoted as saying, "While department stores offer shoppers convenience, saving them time with a variety of goods grouped in different departments and allowing shoppers to find and compare products and choose what they want, the traditional department store model does not fit the needs, lifestyle and behavior of shoppers anymore, especially the new generations."
Only three percent of the current 7.8 million square meters of retail space in Bangkok is now used by department stores and the onset of the pandemic in 2020 dealt a blow to the sector. However, in some ways it may also have served as an important wake-up call.
Ms. Jariya was also quoted as saying, "Going forward, CBRE believes department stores still have opportunities by being adaptive. Operators are likewise encouraged to capitalize on their mixed-use nature, focus on the needs of each store's catchment area, lean more towards younger customers who are hungry for whatever is next, as well as adjust existing space to be more innovation-oriented," adding, "These could be a part of the answer to captivate consumers and also be the key to success."
Indeed some changes are already stirring. Department stores are now starting to have special promotions, widely advertised on social media that offer better value than before and even rival deals offered on e-commerce platforms.
As well, for clothing and shoe shopping, the ability to touch, feel and try on garments provides a richer shopping experience compared to shopping online.
Whatever you do buy, the immediacy of receiving all the goods you purchase is an important benefit. You get your products straight away after paying – there is no waiting for a courier to turn up several days later.
However, improvements in other areas can be made to ensure department stores stay one step ahead.
Department stores can focus on their customer service, as this is seen as a valuable feature by shoppers. By adopting enhanced customer services, they can easily outdo the stress-ridden experience of trying to follow up shipments with faceless e-commerce platforms. This can be achieved by adding or expanding coffee-shop style lounges on the premises, increasing telephone and online support or simply employing more staff to ensure a quick and seamless experience with real people.
Then there is the design of the internal space. Bringing this up to date could enhance the experience for younger shoppers. Adoption of the latest technology such as mobile payment solutions and in-store product search portals, that feature immediate fulfillment, should further solidify the department store as a viable alternative to shopping online.
Loyalty programs that are linked with banking, credit cards and food shopping have helped increase customer numbers in the past, and they can also be further exploited.
It would seem that the future fate of department stores is firmly in the hands of the department stores themselves.