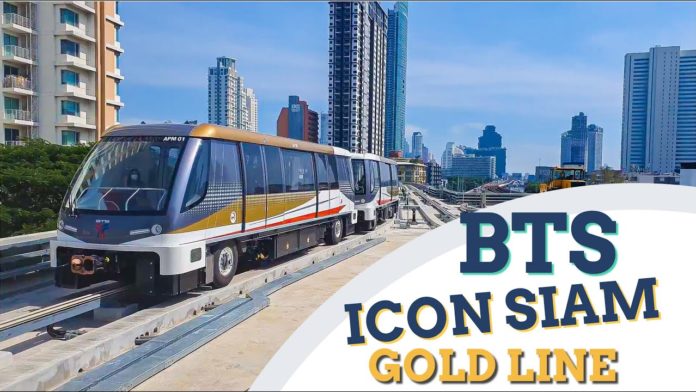 The first mass transit line in Bangkok featuring driverless trains, namely the Gold Line, opened in mid December. The line has a connection at Krung Thon Buri station with the Dark Green Line, widely known as the BTS Silom Line. It runs from there to Khlong San station with a stop at Charoen Nakhon on the way.
The line employs what is known as an automated guide-way transit system. It features Bombardier Innovia APM300 automated people-mover trains. They use proven technology and are very popular in airports and in some urban settings. Predecessors of the APM300 were in service as early as 1971, with the first airport people mover system opening at Tampa international airport in Florida in that year. Bombardier acquired the holding company in 2001 and continued to develop new models.
You may well have taken a ride on an APM300 or an earlier model if you happen to have been at Beijing International airport or in Kuala Lumpur's main airport. It is also widely used in many other airports in the United States, the UK, Germany and Italy.
As for urban transportation systems, the same or similar driverless models are used in Shanghai on the Shanghai Metro Pujiang Line as well as on the Singapore LRT Bukit Panjang LRT Line. The trains can reach a speed of up to 80km per hour.
The Gold Line in Bangkok was not part of the original master plan for mass transit services. The owners of the Icon Siam development suggested it 5 years ago to provide access to the new mall. The 3.8 Billion baht cost of the project was fully funded by the owner of Icon Siam, (Siam Piwat Co Ltd.). They stand to gain all of the revenues and advertising profits from the line for the next thirty years, as well as to reap the benefits of extra customers coming to the mall.
The recently opened line is actually just the first phase of at least three phases planned for rollout between now and 2023. Eventually it will run all the way to Prajadhipok Road in Thon Buri District.
At the same time of the launch of the Gold Line, another mass transit line opened, this being the last leg of the Green Line. It has seven new stations, namely, Khu Khot, Yaek Kor Por Aor, Royal Thai Air Force Museum, Bhumibol Adulyadej Hospital, Sai Yud, Saphan Mai, and Phahon Yothin 59.
The overall Bangkok mass transit master plan is proceeding very well. There will be more new lines opening over the next 3 years with the Dark Red and Light Red Lines slated to open in 2021. The Dark Red Line will run from Rangsit to Bang Sue and the Light Red Line will connect Bang Sue with Taling Chan.
In 2022 the Pink Line will open linking Khae Rai to Min Buri and the Yellow Line will commence services between Samrong and Lat Phrao.