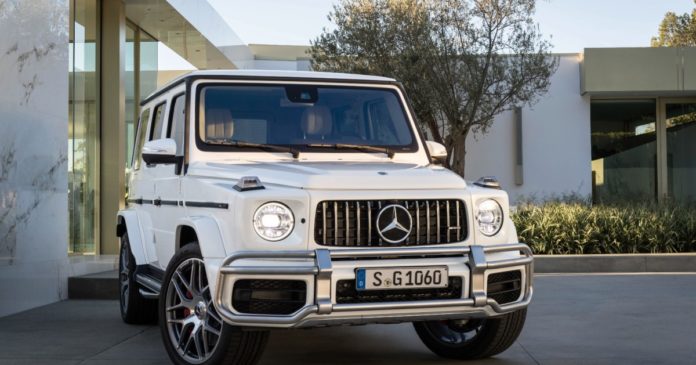 Despite the coronavirus, Mercedes Benz (Thailand) reported that sales of its G class off-road vehicles jumped by more than 225% for the first 6 months of 2020, based on a year on year comparison.
Sales of the AMG sports car also rose, but by a more modest 1.6 per cent. These rises came at a time when the car industry as a whole was bracing for a downturn.
Roland Folger, president and chief executive of Mercedes-Benz (Thailand), was quoted as saying that G Class sales in June, "have surprisingly risen more than what we expected", adding, "These results showed a positive trend for the Thai car market in the third quarter."
The success was due to carefully engineered online marketing that enabled users to become familiar with the features of the models without leaving their home.
Mr. Folger was also quoted as saying, "As consumers continued to be able to access and get close to the Mercedes-Benz brand over the past months when we were facing the Covid-19 crisis, it was reflected in positive sales results during the first half of 2020."
Thailand'sPTT behind Asia's longest dated bond issue
Energy Company, PTT, has raised US$700 million by way of a 50-year bonds issuance. These are the longest dated bonds ever issued in Asia. The yield offered was 3.7 per cent.
Just how investors can tell the future direction of interest rates over the next 10 or 20 years is hard to imagine, but a whopping 50 years would require some certain conviction from investors. Yet interestingly, demand for longer dated bonds is increasing due to requirements for pension funds to plan for the future.
Adebt capital markets banker who worked on the PTT deal was quoted as saying, "For high quality names moving towards longer date deals is not that difficult, we have seen some 40-year transactions already," adding, "We are not jumping from 10-year deals to 50-year deals, we are moving there gradually and investors are becoming more receptive to longer dated issuances."
Thai Vietjet sees promise in the domestic travel market
Thai Vietjet, an airlinein the Kingdom operating a number of domestic routes, has seen an increase in bookings of around 10% in July versus the month before.
The company hopes to boost domestic travel demand by increasing the number of domestic routes it flies. Five new routes are to be added to its network.
These will be Bangkok to Khon Kaen, Bangkok to Nakhon Si Thammarat, Bangkok to Surat Thani, Bangkok to Hat Yai, and Bangkok to Ubon Ratchathani.
Currently the airline is only flying 7 out of its 11 strong fleet of Airbus A320 and A321 aircraft and so has the capacity to grow its route-map.
Thai Vietjet's chairwoman, Nguyen Thi Thuy Binh, was quoted as saying, "A growth trend is possible in July, thanks to government support to stimulate domestic tourism."