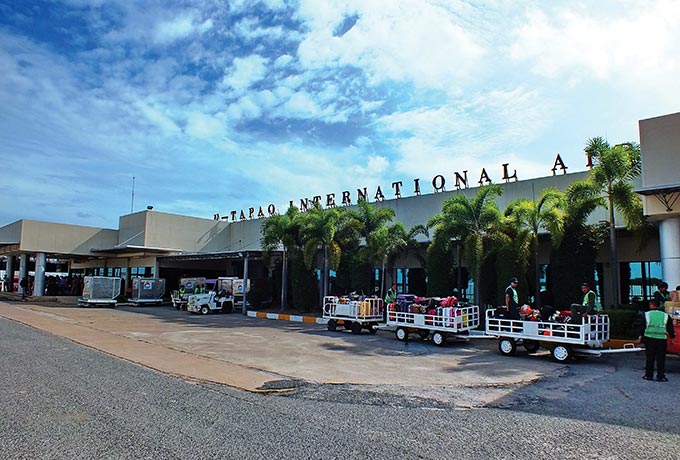 A deal worth 290 billion baht for the Eastern Airport City Project at U-Tapao was signed recently by the government. The project will include a third terminal and other improvements to U-Tapao International Airport.
The signing comes hot on the heals of the recent signing of another important contract, that being for the high speed rail service that will link U-Tapao, Don Mueang and Suvarnabhumi airports.
The three airports will collectively handle up to 200 million passengers per year. U-Tapao is considered to be Bangkok's third international airport.
The Eastern Airport City Project at U-Tapaowill further develop the Eastern EconomicCorridor (EEC)in order to boost the economy in the region.
At the signing ceremony, Prime Minister Prayut Chan-o-cha, was quoted as saying, "This is considered an important step for the country to become a regional aviation hub. The government will speed up such investment projects to meet its goals."
The deal was signed with the BBS consortium, which comprises a joint venture between the BTS Group, Bangkok Airways and Sino-Thai Engineering and Construction (STEC).
The project will be rolled out in four stages, the first of which will be to build a new passenger terminal capable of handling 15.9 million visitors annually. This is expected to be complete by 2024 and will also include no less than 60 aircraft parking bays. In the first 5 years 78,000 jobs will be created.
The second and third phases are expansion plans for the terminal to double and then almost triple its capacity by 2040.
In addition, a second runway at the airport is being considered at the behest of the Royal Thai Navy. An environmental assessment is currently being undertaken. If all goes to plan this will also be complete by 2024.
The entire project will be lucrative for the government in the long run, generating 305.55 billion baht and another 62 billion baht in tax revenues. As well, all assets will revert back to the state after the expiration of a 50-year contract period.
The original plans were in fact being prepared before the Covid-19 slowdown, but in the medium and long term, the project is likely to be instrumental in boosting tourism in the region, once things return to normal. As flights start to operate, a number of routes will be available that can take advantage of U-Tapao as a destination to connect people easily with Pattaya and other cities in the vicinity.