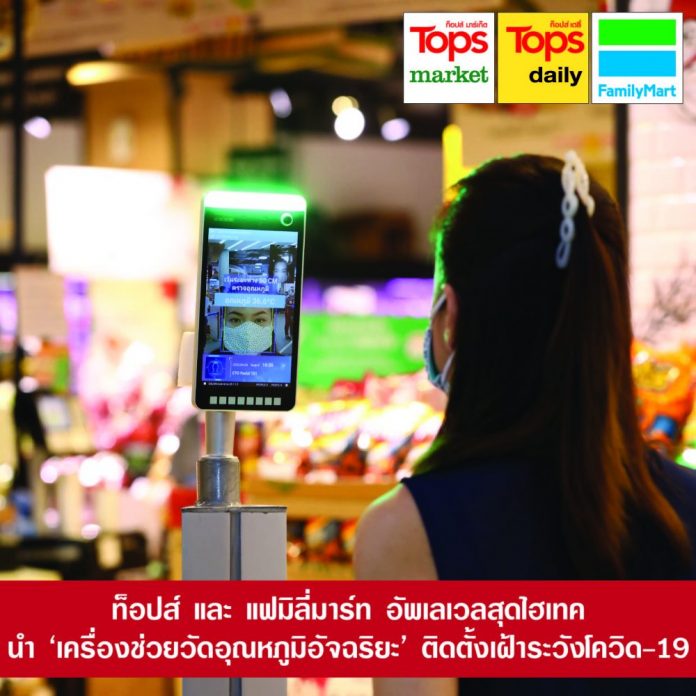 Event Calendar Press Releases Friday April 24, 2020 14:58
Bangkok–24 Apr–Polyplus PR
The COVID-19 outbreak is a major disruption, and every sector must adapt and step up the hygiene measures to boost consumer confidence. After the lockdown, the safety practices will become the new norm and new habits, as people will be more conscious when visiting public places. They will be more concerned about social distancing, and meanwhile, businesses must have ongoing plans to prepare for the new reality. Central Food Retail Group, which operates Tops Market, Tops Daily, and Family Mart, under Central Retail Group, continue to seek new innovations to cater to new changes in consumer behavior. Recently, it has partnered with Central Tech, an innovation arm under the Central Group, to introduce "smart temperature scanners" which detect body temperature precisely just by face scanning. This is to ensure safety for both customers and employees, reaffirming the company's vision in being mindful and prepared for the changes brought by the outbreak in the long run. Initially, the smart temperature scanners will be installed in 15 locations.
The "smart temperature scanners" are based on face scanners, with enhanced properties developed by Central Tech. They will be introduced at Tops Market, Tops Daily and Family Mart. The scanners can detect the body temperature of the person by scanning the face, using an 8" screen connected with an external device to accurately detect the body temperature even when the person is wearing a mask. There is also a notification to alert that the person is not wearing a mask. The entire system is touchless, reducing the need for close physical contact between its staff and customers. This is in line with the social distancing practice in order to minimize the spread of COVID-19. Additionally, the smart temperature scanners are easy to install and use, and it takes just a short moment to scan and process the data, with 99% accuracy, offering an effective face scanning and temperature checking experience. Every customer must go through a temperature check before entering the store, and their body temperature must not exceed 37.5 degrees Celsius. For normal body temperature, the screen will show green light, but if the person's temperature exceeds the 37.5 degrees Celsius limit, the screen will show red light with a notification sound. The system will send an automatic message to the store's staff, and the person's temperature will be checked again. If the result still exceeds 37.5 degrees Celsius, the person will be recommended to seek medical advice.
The smart temperature scanners have been installed at Tops Market Nanglinchi as the pilot store, and will extend to 14 other locations of Tops Market, Tops Daily and Family Mart in busy areas in early May, including Tops Market at Sukhumvit 41, Central Silom Complex, Mega Bangna 2, and RCA, Tops Daily at Sukhumvit 101.1, Krungthepkreetha 43, Sikarin Hospital Bangna, the Government Complex Commemorating His Majesty The King's 80th Birthday Anniversary, and Nakniwas Market, and Family Mart at Suanphlu (gas station), Silom 32, Phattanakarn 51, Plum Condo Rangsit and Phra Pin 7 Village.
In addition to the smart temperature scanners, Tops and Family Mart also has other strict measures to minimize the spread of COVID-19 and will continue to seek new innovations to ensure safety for our customers and employees in the long run.
For more details and information and services and special privileges, visit www.tops.co.th, Facebook: TopsThailand or LINE @TopsThailand, @Topsonline and Facebook: FamilyMart Thailand and www.central.tech/.