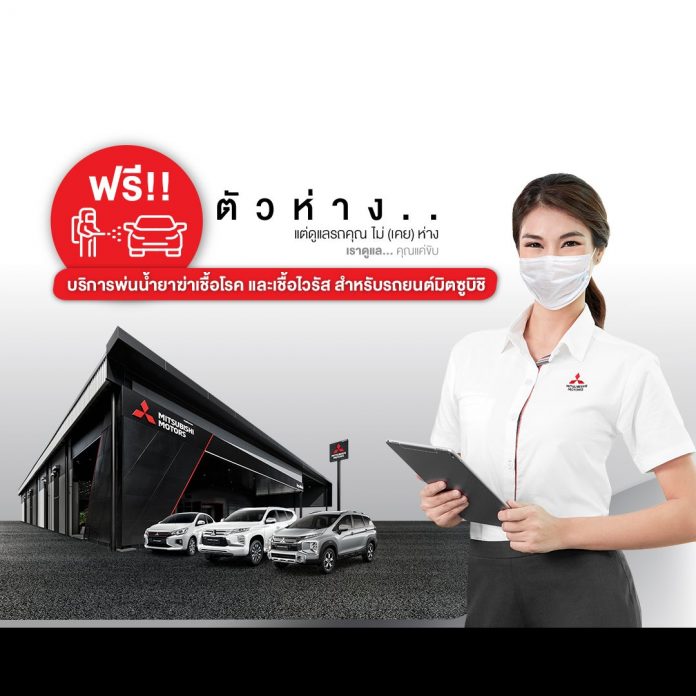 Automotive Press Releases Friday April 17, 2020 10:49
Bangkok–17 Apr–Mitsubishi Motors (Thailand)
In the face of COVID-19, Mitsubishi Motors (Thailand) Co., Ltd. continues to bring worry-free driving experience to customers with its aftersales service tagline 'Rao Doo Lae Khun Kae Kub' (We take care… you just drive). In the fight against COVID-19 outbreak, Mitsubishi car owners will benefit from a free disinfecting service* at all Mitsubishi Service Centers nationwide from April 17 until June 16, 2020
Mr. Morikazu Chokki, President and CEO, Mitsubishi Motors (Thailand) Co., Ltd. said "We are actively taking our part to support Thailand's fight against COVID-19 outbreak. At all Mitsubishi Service Centers, we provide professional disinfecting service at no charges to safeguard the health and safety of our customers and contribute to Thailand's efforts in containing the outbreak."
To achieve high level of hygiene and safety, the disinfecting service utilizes hospital-grade disinfectant product certified by European standard of EN 14476. It is safe and friendly for your car's interior and surface, non-flammable and non-toxic. It has also been proven to eliminate viruses and designed for the global airline industry.
Mitsubishi Motors Thailand has strived to serve customers in a healthy and safe environment, in addition to safe products and services. All Mitsubishi showrooms and service centers stress high level of hygiene by implementing precautionary measures including body temperature screening at main entrance, always wearing face mask while assisting customers, frequently cleaning all high-touch areas in showroom, and disinfecting vehicle after maintenance service.
For more details of disinfecting service, customers can go to www.mitsubishi-motors.co.th or contact Mitsubishi Call Center at 02-079-9500, everyday from 08:30-17:00 hrs.
Free disinfecting service is exclusively for Mitsubishi car customers. The service is available at Mitsubishi Service Centers nationwide from April 17 – June 16, 2020.
About Mitsubishi Motors Thailand (MMTh)
Mitsubishi Motors (Thailand) Co., Ltd., the largest plant in the MMC group and an export hub to more than 120 countries, is one of Thailand's leading automotive manufacturers committed to produce and sell a range of vehicles that are eco-friendly, high in quality, performance, safety, comfort, technology and customer satisfaction. In 2018 MMTh celebrated a total production of five million units, and officially opened Education Academy in Pathum Thani. MMTh's current range of vehicles includes the Mitsubishi Triton, Mitsubishi Pajero Sport, Mitsubishi Attrage, Mitsubishi Mirage, and Mitsubishi XPANDER. To ensure the highest quality, MMTh uses its proving ground in Sriracha, Chonburi to assess products from design and prototype stages to pre-production and commercialization. This ensures customers take delivery of vehicles that are second-to-none in all aspects of quality.
Please contact Mitsubishi dealers nationwide for more information and test driving, or contact Mitsubishi Call Center Tel. 02-079-9500 every day at 8:30 – 17:00 hrs.Stay updated with Mitsubishi Motors Thailand;
Website : www.mitsubishi-motors.co.th
Facebook : www.facebook.com/MitsubishiMotorsTH
Instagram : @MitsubishiMotorsTh
Youtube Channel : Mitsubishi Motors Thailand
Line Official Account/ ID : Mitsubishi Motors Th / @MitsubishiMotorsTh