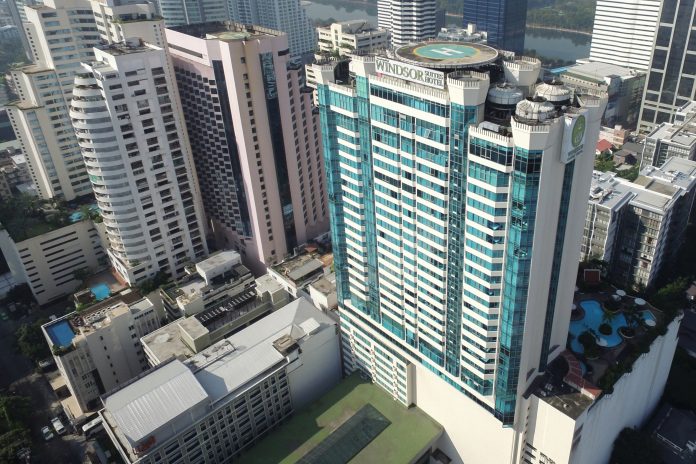 According to the Thai Hotels Association (THA) more than 30,000 hotels in the Kingdom will have absolutely no income whatsoever for the month of April.
The actual number counted was 30,936 establishments, which represent more than 95 per cent of the total number of hotels in Thailand, currently standing at 32,563.
Many of these hotels are in Bangkok and there is little distinction between the large opulent hotels and the smaller establishments.
It is not only rooms that are empty but all of the additional revenue from extras such as buffet dinners for non-residents, as well as weddings and conferences that has completely gone.
All hotels are suffering significant losses. Indeed, as is well known, there are many internationally branded hotels in the capital and so companies that operate extensive hotel chains are having to close down multiple properties.
For example, Marriot hotels has many hotels. The company has grown over recent years and controls brands such as the Sheraton and Westin Grande.
Accor Group is the company behind the Sofitel brand as well as the Mercure, Novotel, Pullman and Ibis properties. Some of its hotels are owned by franchisees but the company manages dozens of properties in Bangkok and thousands of hotels worldwide.
Well-known hotel operator, Centara Group declared that it will entirely close a total of 28 hotels for the month of April, with 25 of them in Thailand and the other three in other countries. It has pledged to take care of its staff during the shut down period.
As for the staff in other hotels, some operators are seeking clear guidance from the government regarding shutdowns so that staff can benefit from the state social security fund (SSF).
Surapong Techaruvichit, an adviser to THA was quoted as saying, "THA had a discussion with the Labour Ministry last week, but failed to achieve the goal of protecting our workers," adding, "Operators in each province have to help themselves by urging their governors to officially approve the closure of hotels in order to get SSF payment for affected employees."
Mr. Surapong was also quoted as saying, "We strictly follow the rules by contributing 10% of salary to this fund, in which both employers and workers pay 5% equally. For example, a hotel with 550 staff [has] to contribute at least 700,000 baht every month. But during this tough time when we have no income, SSF cannot pay out to employees who need it the most."
The association is requesting that its member hotels take care of workers by offering them rooms and meals.
Yet, in general many in the tourist industry largely agree with the lockdowns in place across various parts of the country citing them as necessary to contain the spread of the coronavirus. Strong action early on will hopefully lead to a quicker outcome.