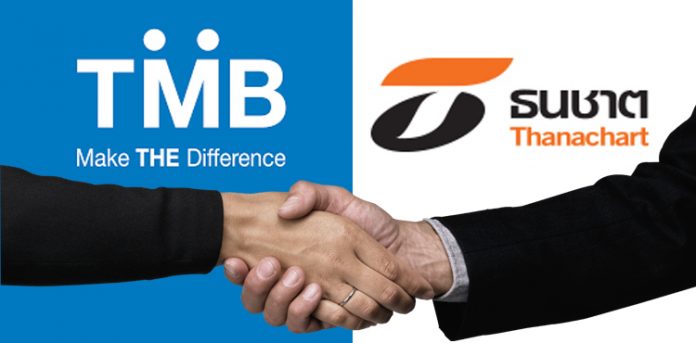 TMB Bank and Thanachart Bank (TBank) are to merge in a landmark merger that will be the biggest in Thailand's banking history, and indeed will be the largest worldwide in recent times.
TMB will raise a total of 130 billion baht to buy out unlisted Tanachart bank, and will set aside a further 26 billion baht to cover restructuring costs. Most of the funding (100 billion baht), will be by way of a share offering, with TMB expected to issue 62.4 billion new shares. The remainder of the funding will be raised by way of debt financing.
The new entity will become the 6th largest lender in Thailand.
The total employee count of the two banks stands at 19,000 and according to the president and chief executive of Tanachart Bank, Praphan Anupongongarch, it is not envisaged that any employees will be laid off.
The new bank will have approximately 10 million customers and assets of nearly 2 trillion baht.
The merger deal is due to be fully completed by the end 2019 with the new bank to be called the TMB-Thanachart Bank.
37 private hospitals ordered to provide price information
As part of the government's aim to tackle overpriced medical treatment, all private hospitals were required to submit their prices of medicines and procedures to the Internal Trade Department by July 31st 2019.
However, according to the director-general Whichai Phochanakij, some 37 out of 353 private hospitals failed to provide their pricing information by the deadline.
The 37 private hospitals have now been ordered to provide information pertaining to the actual costs of medical supplies and medicines, as well as their listed prices by the end of August, or face legal action if they do not comply that can include jail time for top executives.
The collection of the pricing data is part of the government's drive to better inform patients of their rights when visiting a hospital.

All costs from all hospitals will be updated on a government database so that prospective patients can make fair choices about where they will go to receive treatment. They can check the prices by scanning a QR code or by visiting the department's website.
The drive to scrutinize private hospital charges is in response to a growing number of complaints about excessive pricing.

Tourism Authority of Thailand (TAT) targets Asia markets
The Tourism Authority of Thailand (TAT) has commenced a new marketing campaign called "Give Me Five", aimed at luring visitors from neighboring countries (Vietnam, Cambodia, Myanmar and Laos), as well as some countries that are within 3 or 4 hours flight time away such as Malaysia, India and Indonesia. It hopes to see as many as 200,000 more visitors from these countries, after seeing robust growth from them already this year.
Indeed, visitors from Indonesia climbed more than 10 per cent in the first half of 2019 and visitors from India shot up 24 per cent in the same period. The average increase from the other aforementioned countries stood at around 5 per cent.
Short haul markets are considered to be quite lucrative for the Thai tourism industry since people can travel easily and more often. At the same time they are spending more when they are in the Kingdom.
The TAT expects that Asian tourists will provide income of about 1.2 trillion baht this year.