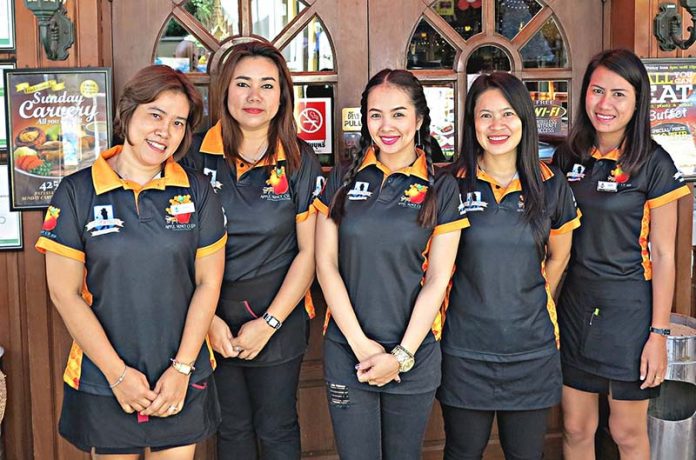 The Sportsman Pub and Restaurant in Pattaya is a very well known British style pub serving a variety of English, Thai and International dishes. It is well located in soi 13 between Second Road and the Beach Road. If you have not yet stumbled across it, soi 13 is just a few sois north of the Royal Garden Plaza on the Beach Road and from Second Road it can be found almost opposite 'The Avenue' shopping centre.
The food is amongst the best in Pattaya and along with top notch friendly and attentive service, hands on management and regular specials it has consistently garnered top ratings on the well known travel website, Trip Advisor.
Although the Sportsman is billed as a British style pub and restaurant, it attracts diners from many countries. A new, varied menu has been rolled out recently. Yes you can get all of your favourite traditional British meals such as Fish and Chips, (Cod of course) and a range of daily roasts complete with Yorkshire pudding and all of the trimmings, but you can also enjoy new dishes including 'Chinese chicken curry' (Britishstyle with egg fried rice and crispy battered prawns) and 'Chicken and Pepper Tortilla Wraps' with cheese and ranch dressing.
For desert, try the new Golden Syrup Sponge Pudding.  It will be a hard choice between this and the sumptuous traditional Apple Pie.
The recently introduced menu also has new beverages added to their 'Healthy Option' section including blends of apple and lime, cucumber and wheatgrass and pineapple. A new'Frosties' selection introducesthe iced cold pineapple blizzard, lime blizzard, blueberry blizzard and the melon blizzard.
A new cocktail menu is also in place with a buy one, get one free offer now available to both ladies and men, but only on a Friday after 6:00pm. The offer includes eight different choices includingclassics like the Singapore Sling and Bloody Mary.
Meal specials are offered on 3 distinct days.
On Wednesdays the daily special is a burger and chips, with a San Miguel for just 195 baht all in, available all day and all night.
On Fridays look forward to the all-you-can-eat pizza, pasta and salad buffet, available between 6:00 and 10:00pm, for just 249 baht per customer.
On Sundays, the Sportsman's famous all-you-can-eat carvery, is a must have at just 450 baht, available between 12:30pm and 8:30pm. The carvery includes two soups, five roast joints, a special steak and kidney pie, plenty of Yorkshire puddings, and all the other garnishes that one would expect of a really traditional British Sunday lunch or dinner.
There are also drink specials available throughout the week.
Recently added is the new Monday night attraction entitled 'Monday Fun Days' featuring two fun ideas. Firstly is 'grab my balls' where customers are tempted to stay for another drink, which could be free if they pull the red ball out from the bag…. be careful as there are 2 black balls also in there but customers are still only charged regular drink price if they pick a black ball.
Secondly is the interactive jukebox where customers can select their favourite music tracks from decades gone by. The chosen tracks are lined up in a playlist and the accompanying videos are shown on the big screen TV's. There are also 99 baht pints of Heineken available on Mondays.
On Tuesdays, all day and all night, pints of Guinness are just 180 baht. Thursday's special is Tiger Draught pints at just 99 baht and on Saturdays, pints of Thatchers Gold draught cider are just 160 baht.
Thursday also sees The Sportsman weekly free-entry quiz starting at around 9:00pm. There is a free (Bowmans) pie and chips for all contestants at the end of the fun quiz, and a rollover jackpot question. Everyone is welcome, and you can either set up your own team, or join in with another group.
Food and drink are the main draw but the Sportsman also offers 8 wall-mounted big screen TVs showing up to the minute sports and news, a pool table and outside catering for any size party.
For more information about the Sportsman Pub and Restaurant in Pattaya please visit https://sportsmanpub.com