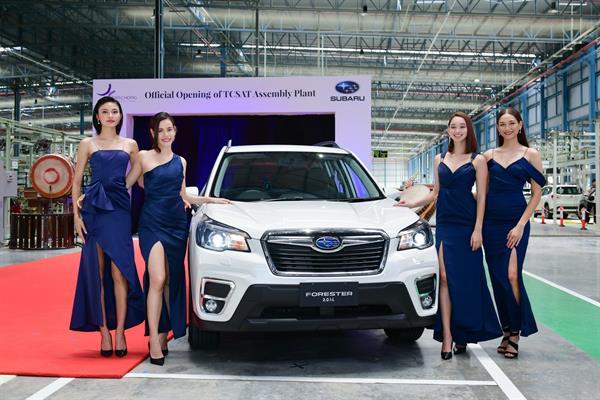 http://www.thailand4.com/.auto/2019-04-26/5fb6abc0298539cf4d9fcf7fd1813ae8/
Automotive Press Releases Friday April 26, 2019 09:24
Tan Chong International Limited (TCIL) officially unveiled its first Subaru assembly plant, occupying more than 100,000m2 in Bangkok's Ladkrabang Industrial Estate recently. This is the first plant outside Japan to fully produce Subaru cars in Asia. With an initial investment of ฿5 billion, the plant will deliver more than 6,000 Subaru Foresters in its first operating year to meet demand for Subaru vehicles in Southeast Asia.
Strategic collaboration
Tan Chong Subaru Automotive (Thailand) Limited (TCSAT) is a joint venture between Hong Kong-listed TCIL and Japan's Subaru Corporation. TCIL, headquartered in Singapore, holds a 74.9 per cent stake through its subsidiary, TC Manufacturing and Assembly (Thailand) Limited, while Subaru Corporation holds the remaining 25.1 per cent. Thailand's status as an automotive hub, with many Japanese automakers, established suppliers of components and strong localisation ability, meant the plant could be started up quickly and at a reasonable cost. In addition, trade agreements in ASEAN, further allow the cars to be competitively built and exported to meet growing demand.
The fifth-generation Subaru Forester is the first completely knocked-down (CKD) model to be assembled at TCSAT. The cars will be distributed in Thailand, Malaysia, Vietnam and Cambodia by Motor Image Group, a wholly owned subsidiary of TCIL. Some 100 cars have already been delivered to customers in Thailand. Motor Image also reported record sales figures at the Bangkok International Motor Show in March, largely contributed by strong consumer interest in the Subaru Forester.
Mr Glenn Tan, Deputy Chairman and Managing Director of TCIL, said, "This is truly a milestone for us, to be able to build Subaru cars ourselves in Thailand. From distribution, dealerships and aftersales, we are now also manufacturing Subaru cars. This strategic long- term move will allow us to better manage our supply chain, widen our product line up, localise better and be less dependent on supply from Japan. We will be better able to respond and meet consumer demand for Subaru vehicles in the region, and perhaps even beyond the region in future."
World class vehicles produced locally
TCSAT employs a team of Japanese staff to ensure that production standards and processes meet the same stringent levels as in Japan. In addition, high-performance robotics are used at several stages of the assembly process to ensure superior quality and zero defects. At the painting line, the pre-treatment, electrical deposits, primer and top coat are applied automatically. The key welding points of the car body and the sealer application for glass components are also automated to achieve total consistency. This is part of the technology and skills knowledge transfer which Subaru Corporation has committed to.
Quality control and correction processes take place during and throughout the assembly process. This is complemented by regular production audits by Subaru Corporation. Some of the unique features of the plant include a test track, specially built to assess the condition of every car before they leave the factory. The robust quality control procedures ensure that every car produced at TCSAT is safe, comfortable and reliable.
Occupational safety and health
TCSAT employs more than 400 highly-skilled local workers. Expatriates from Japan and Singapore are also based in Thailand to share their technical and management expertise. TCSAT aims to provide a safe and healthy work environment for its staff. A committee oversees the overall safety standards of the plant and proactively identifies and isolates potential risks. Personal protective equipment is worn by all staff and visitors at designated areas. All management staff are trained by external consultants on local regulations and global practices. To further promote staff health and well-being, the canteen serves nutritious Thai and Japanese meals. Leisure areas, such as a futsal field, cater to staff recreation needs.
Control, driveabilty and performance
Like the made-in-Japan model, the Subaru Forester assembled in Thailand provides ruggedness and space for the whole family. The Subaru Forester features all four Subaru core technologies. The Symmetrical All-Wheel Drive sends power to all four wheels to give drivers a reliable drive in even the harshest conditions. The Boxer Engine enables a lower centre of gravity for better stability and handling. The EyeSight Driver-Assist Technology alerts drivers to unanticipated risks and helps prevent accidents. The Subaru Global Platform elevates overall safety and performance with a new body and chassis design. It was given a Good Design Award by the Japan Institute of Design Promotion last year.
About Tan Chong International Limited
Tan Chong International Limited (TCIL) is listed on the Stock Exchange of Hong Kong (HKSE:0693) and is a major motor, property and distribution company with operations in Singapore, Cambodia, China, Hong Kong, Indonesia, Japan, Malaysia, Philippines, Taiwan, Thailand and Vietnam. Since its inception in 1957, the Group has grown its assets substantially through continuous expansion of its existing diversified business portfolio in manufacturing, distribution and retail. Other businesses that TCIL engage in across Asia include automotive, commercial, manufacturing, trading and property investment businesses.
About Motor Image
Motor Image is a wholly owned subsidiary of TCIL and exclusive distributor of Subaru vehicles across eight markets in Asia. Established in 1986 and headquartered in Singapore, the company has offices in 10 markets; Singapore, Cambodia, China, Hong Kong, Indonesia, Malaysia, Philippines, Taiwan, Thailand and Vietnam. The company has identified ASEAN as the key engine for future growth. In July 2011, a partnership was established with Subaru Corporation (formerly known as Fuji Heavy Industries Ltd.) for the production of Subaru vehicles at a CKD assembly plant in Malaysia. On 8 February 2017, Subaru Corporation and TC Manufacturing and Assembly (Thailand) Co., Ltd. (TCMA TH), a wholly owned subsidiary of TCIL, entered into a joint venture – Tan Chong Subaru Automotive (Thailand) Ltd (TCSAT) – for the local assembly of Subaru vehicles in Thailand. The vehicles produced in both Malaysia and Thailand will be distributed by Motor Image through its Subaru network. www.subaru.asia