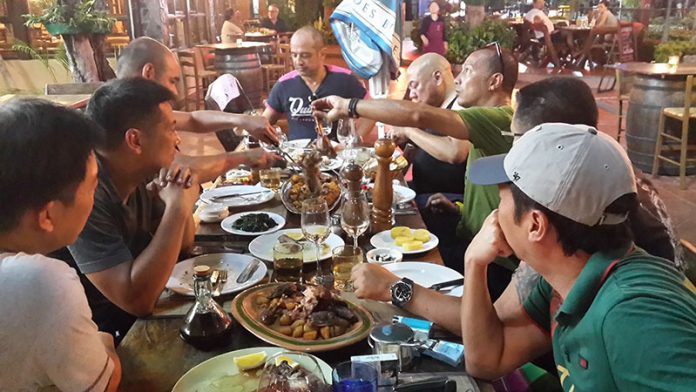 Toscana Italian and Moom Talay Thai restaurants are situated side by side on Pattaya's main beach road near to soi 6/1. They are the brainchild of Luca Marchetti, who, having grown up on a farm in the mountains just north of Tuscany, has been able to provide a rustic alternative to other eateries.
One special feature of the twin restaurant enterprise is that nearly all of the produce is home grown comes from his two farms in the Eastern part of Pattaya. One farm provides the vegetables and the other is an organic animal farm.
The vegetable farm covers 5,000 square meters and is located between the Charknok and Mabrachan reservoirs, near to Khao Din temple. It has two full-time staff on the property carefully tending to the vegetable crops every day. There is also a farmhouse on the land. Nine varieties of salad vegetables are produced including beans, tomatoes, Thai herbs, rosemary, lettuce, parsley, onions, rocket and celery as well as spinach and others. It took some time to cultivate rosemary as it only grew in certain places and quite a lot of experimentation was required to find the best location. Lemon trees have also been recently introduced and other varieties of fruit and vegetables are constantly being added.
Vegetable crops are rotated regularly and some free-range chickens are on site to help with the regeneration of precious minerals in the ground. Luca does not use any chemicals at all on his farm so customers can enjoy totally organic food on their plates.
The organic animal farm is larger covering some15,000 square meters and is situated in Huay Yai. Here, eight full time staff work to tend the various animals on the farm including goats, pigs, chickens, ducks, geese, rabbits and cows, which were recently added in 2017. This is an all-natural organic farm and antibiotics are not used at all.
There are four different varieties of duck including Mallard and Muscovy and a wide range of different chickens, which has grown to include Rhode Island Reds, Leghorns, Australorp and strains from Russia, Germany and the Czech republic.
Chickens on the farm provide around 200 eggs per day, enough for the restaurant's daily needs and also enough for breeding purposes.
The farm continues to evolve, adapt and expand. New pigpens were installed to accommodate a recently introduced South African 'Boer' population. The total pig population on the farm has increased to around 500.
As well, there are some 600 goats also on site. Goat meat has been especially welcomed by the restaurant's Russian customers, with goat stew and roast leg of goat both popular dishes. Luca believes that goat tastes better than lamb. It's affordable too. Goat's meat is available at 1500 baht per kilo, which would serve an average of 4 people.
Luca picks his vegetables on the same day that they're served to his customers. In addition, the animal farm provides all of the required daily cow's milk that the restaurant needs and some of this is used in the production of a variety of cheeses including mozzarella cheese.
Both of the pristine farms require a lot of effort in terms of their upkeep, however the dividends have paid off since Toscana and Moom Talay are both held in the highest regards amongst customers and reviewers alike.
The restaurants are very popular, serving between 500 and 600 patrons a day in high season.