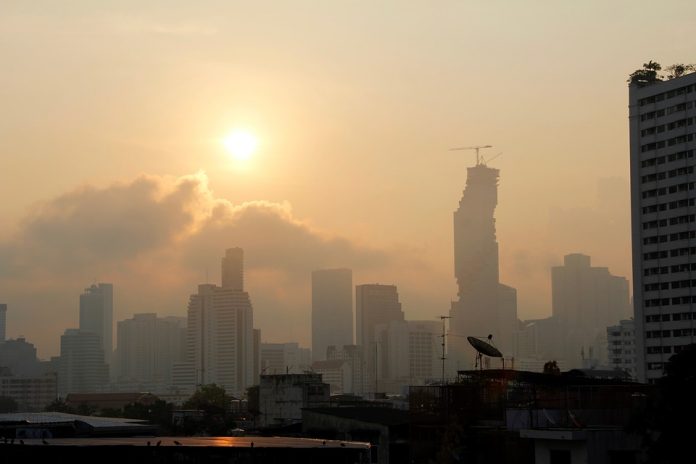 Air pollution is now an issue in almost every major city in the world, and Bangkok recently made headlines as the hot and dry season elevated air pollution as measured by PM2.5 particle benchmarks.
Yet inside buildings, there is also a drive to improve air quality as well as other environmental factors such as providing green spaces and access to natural light
In addition, the environmental footprint that a building's construction makes is on the agenda with a push towards sustainable design that is not harmful to the environment.
Two separate certifications for buildings have been developed. Both are multi-tier with gold ratings being the highest. They are the LEED and WELL certificates.
LEED stands for "Leadership in Energy and Environmental Design", and is a rating that is administered by the United States Green Building Council (USGBC). Its aim is to measure the environmental impact of a building in terms of sustainable design and ongoing performance
WELL is short for the "WELL Building Standard" and is administered by the WELL Building Institute based in Washington D.C. Its aim it to ensure that high standards are in place for building interiors including air quality but also for all other human health related requirements.
Certificationsuits office and commercial buildings where people have to spend a large amount of time, but can also be applied to other buildings.To become LEED and WELL certified requires attention to detail in both the design and running of a building.
Building owners are invited to register their buildings for varying levels of certification. Currently 224 million square feet of building space has been registered worldwide. In Bangkok 20 projects have already been certified.
One such office and retail building in Bangkok that is under construction and that is seeking to be the first building to gain the highest certification for both LEED and WELL is The PARQ on Rama IV road.
Ms. Su Lin Soon, CEO – Development, The PARQ, was quoted as saying, "Our purpose as a responsible developer is to enrich the lives of those who spend time in our buildings, whether through its human-centric and sustainable design, energy efficiency, resource efficacy, or seamless operational practices. Sustainability is as much about the environment as well as human sustainability, as in making it a priority to ensure people's sustainable wellbeing."
Since more than 90 percent of people's time is typically spent in buildings, it is important that things such as technologically advanced air-conditioning systems are installed. As well, the inclusion of green spaces, anti glare natural light, access to healthy foods, access to pure water fountains, and a gym or fitness room all contribute to peoples well being.
The PARQ will be close to the Queen Sirikit National Convention CentreMRT station and is championing an area that is at the forefront of sustainable living and environmental well being.
Ms. Su Lin Soon was also quoted as saying, "The PARQ is an innovative wellness-focused workplace development as it sets new standards for quality of life for the people who work here. LEED and WELL building standards work symbiotically to ensure that buildings and communities preserve precious resources for a brighter future. It was important for us to aim to pioneer this for Thailand, to present the best manifestation of work-life spaces."
For more information about The PARQ, the website can be found atwww.theparq.com
For more information about LEED certification please visit: https://new.usgbc.org/leed
For more information on WELL certification please visit:
https://www.wellcertified.com