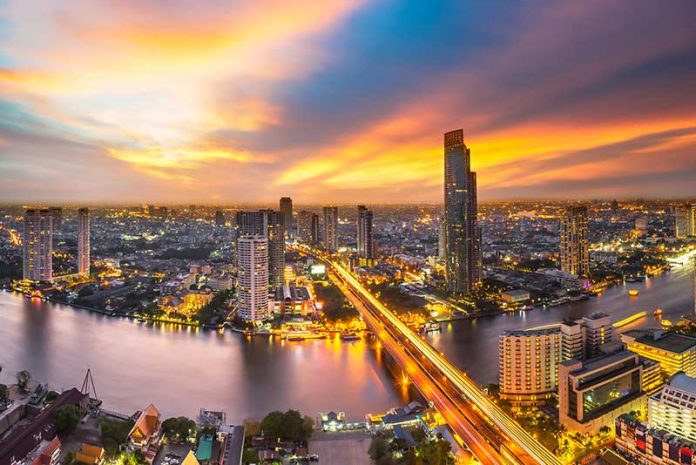 According to a report called the City Momentum Index, prepared and published by property consultancy JLL, Bangkok is still considered to be within the top 20 most dynamic cities.
Thailand's capital came in at 18th place ahead of Shenzhen and Chengdu, but behind Beijing, Shanghai and Manila, the latter of which garnered 12th place.
The top spot went to Bengaluru in India, and second place went to Hyderabad also in India. Cities in both India and China dominated the rankings.  The Chinese cities of Hangzhou, Chongqing, Nanjing, Xian, and Guangzhou all made it into the top 20 with positions ranging from 9th to 17th place.
The report takes into account a range of 20 indicators in the real estate sector and beyond to identify which places are undergoing the fastest urban expansion. 131 of the most commercially active cities worldwide participated in the index. The index drew on three years of activity. The recent release of the report marks the 6th release of the index to date.
In the top 20 there were 19 cities in Asia showing a shift of urban growth to the APAC region. There were no European or American cities with the same level of notable urban expansion that allowed them appear in the top 20. The only non-APAC city in the top 20 was Nairobi in Africa.
Bangkok benefitted from a number of new infrastructure projects that are evident in the city including four new mass transit rail lines already under construction. The Thailand 4.0 strategy, which was launched in 2016, is also spearheading economic development.
Manila beat Thailand as it is in the midst of a significant urban renewal and expansion program that includes new roads and new power plants.
The report comes as global economic growth appears to be in its later stages and may be slowing in some economies. Yet in Asia there are plenty of urban centers that are seeing significant expansion, well above the global average.
JLL was quoted as saying, "These cities also need to address the environmental and social impacts of rapid growth such as social inequality, congestion and environmental degradation. The provision of smart, efficient and productive real estate and increased transparency are key factors in driving long-term, sustainable urban growth."
Factors such as a reduction in traffic congestion and improvements in air quality were also taken into account in the index. Advancements in technology have played a part in some cities to ensure sustainable urban expansion without negative effects. Economic transparency in real estate markets was also taken into consideration with Indian and Chinese cities doing well in this regard.