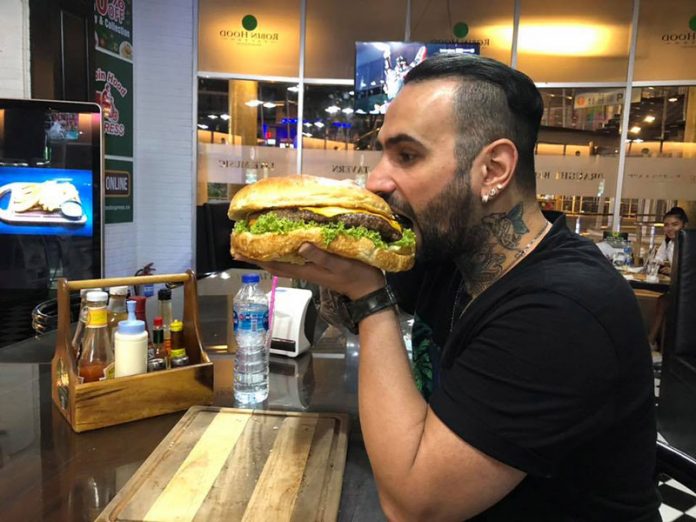 The Robin Hood Tavern – situated on the first floor of the Avenue Shopping Centre on Pattaya Second Road – has a capacity of 300 people with seating plentiful around the main floor and raised areas. There's a nice al-fresco area outside for those who like to watch life go by, and for the smokers, who can enjoy a cigarette at their table without having to get up and head for a smoking area.
One of the great advantages for those who like to be able to drive to a venue is that The Avenue has plenty of on-site parking and customers only need to get their parking ticket stamped by the cashier at Robin Hood to avoid paying a parking fee. This is especially good for people with families and the Robin Hood Tavern itself is well suited to catering for family groups.
Robin Hood, offers a great choice of food to suit every taste from breakfast time to the small wee hours. The bar boasts an impressive selection of draught beers as well as a full selection of bottled beers, spirits, wine and imported craft beers.
Robin Hood is popular with sporting enthusiasts and families alike. As you would expect, there are big screen TV's everywhere to ensure you don't miss out on any sporting action.
Robin Hood has an 'all you can eat' breakfast for 199 baht, available from 7:00am until 2:00pm Mondays to Saturdays and until midday on Sundays.
Little John's Sunday Carvery– voted Pattaya's number 1 Sunday carvery – with soup of the day, a selection of four imported roasts, fresh vegetables and imported potatoes, along with the dessert of the day is just 395 baht. If you're not overly hungry, the Tavern offers a small roast dinner at 199 baht.
They also offer a daily carvery, running from 4:00pm to 9:00pm, for just 199 baht, or 279 baht for 'all you can eat'. Children under eight years of age eat for free with each paying adult. A daily carvery is almost certain to be a winner among those for whom the traditional Sunday carvery is a must.
The team at Robin Hood have organized a real treat for football fans from 10:00pm on Saturday nights – 20 percent off everything including a free hog roast, while it lasts.
The next time you're in Robin Hood ask for a Loyalty Card. It's worth over 2,000 baht and you get a stamp every time you spend 495 baht or more. For expats, there's a V.I.P. Card. This entitles the holder to 10% discount off food and drink. The card is free.
Robin Hood also supply a selection of daily International Newspapers for their customers to read, including The Sun, Daily Mail, Daily Mirror, Daily Star and Racing Post.
The restaurant also offer a service that has gone from strength to strength since its launch in mid 2018 – Robin Hood Express – whereby discounted meals of top quality from their impressive menu can be delivered to a customer's home or hotel.
To this end they are giving a substantial 20 percent off food orders to anyone using the Robin Hood Express App to order. The App can be downloaded via www.robinhoodexpress.co
Complementing the service at Robin Hood is Fuelled Bodies, the place for healthy, high protein, fitness meals. Using only the highest quality ingredients to prepare delicious  food to help customers reach their fitness goals. Meals can be tailored to specific diet requirements upon request. Fuelled Bodies offers a wide range of protein sources which can be accompanied with gluten-free brown rice, organic sweet potato or wholewheat pasta.
Convenience and consistency is key when trying to eat healthy and the Fuelled Bodies Delivery service helps you do this by offering freshly made nutritious meals, delivered to your door daily. So whether you're trying to lose weight, build muscle or just want to start eating healthier and improve your lifestyle, let Fuelled Bodies help.