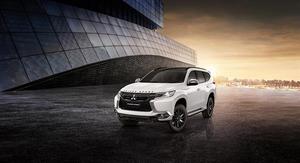 http://www.thailand4.com/.auto/2018-11-22/b83e9649bd3dd89dc43372e76b59b66a/
Automotive Press Releases Thursday November 22, 2018 14:20
Mitsubishi Motors (Thailand) Co., Ltd. recently unveiled Mitsubishi Pajero Sport Elite Edition. It is the latest iteration of the popular model, bringing new levels of luxury, style and comfort to the segment. The limited edition features upgraded exterior and unique interior work.
"Mitsubishi Pajero Sport has been outstanding, offering customers unparalleled levels of performance, technology, safety, function, and driving experience. In our efforts to stay ahead, we have taken another step forward by enhancing the Pajero Sport with elegance and more superior equipment. It is built to inspire success in your own way," said Mr. Morikazu Chokki, President and CEO, Mitsubishi Motors (Thailand) Co., Ltd.
Mitsubishi Pajero Sport Elite Edition is available in 2WD and 4WD versions which perfectly suits the mostly versatile lifestyles of Thai customers. The exterior is offered in 2 body colors of Jet Black Mica and White Pearl.
The Jet Black Mica version sports an aggressive still premium look, with additional accessories including engine hood emblem, black front grill, black front under-garnish, black roof rail, rear spoiler, exhaust finisher, black rear under-garnish and black 18-inch alloy wheels.
The White Pearl version flaunts its own distinctive styling, luxury and a touch of sportiness with a two-tone finish. It comes with an eye-catching Jet Black Mica roof that provides stark contrast to the White Pearl body color, and the same list of accessories.
Mitsubishi Pajero Sport Elite Edition also incorporates 'Dynamic Shield', Mitsubishi Motors' design concept. It dictates that the front-end is sculpted with angular, bold lines that form a shield, combining elements of protection and performance into the design. The treatment gives Mitsubishi Pajero Sport Elite Edition a modern and robust front-end with touches of premium luxury.
The premium interior features brown leather seats with Horizontal Striped quilting. The sophisticated seat material enhances occupants' comfort by safeguarding the seats from getting extremely hot when the vehicle is exposed directly under the sun. Other luxurious touches include door trim, and console box finished in brown, a special emblem scuff plate with LED lighting and special floor mat.
Mitsubishi Pajero Sport Elite Edition both 2WD and 4WD versions are equipped with seven airbags and other active safety technologies including Active Stability and Traction Control (ASTC), Hill Start Assist system (HSA), Forward Collision Mitigation System (FCM), Ultrasonic Misacceleration Mitigation System (UMS), Blind Spot Warning and Multi Around Monitor with Parking Sensors.
The 2.4 L MIVEC VG Turbo Diesel engine has been retained. Producing 181 ps at 3,500 rpm and 430 Nm at 2,500 rpm, its power is transferred to the wheels via an eight-speed automatic transmission.
The 4WD variant also comes with Mitsubishi Motors' Super Select 4WD-II that features four drive modes including 2H (2WD High-Range), 4H (4WD High-Range), 4HLc (4WD High-Range with Locked Transfer) and 4LLc (4WD Low-Range with Locked Transfer). It also features a Rear Differential Lock in conjunction with the Center Differential Lock – a feature not many PPVs have.
The introduction of the Mitsubishi Pajero Sport Elite Edition takes premium luxury to new levels while enhancing safety, performance and technology. It connects with bold and confident customers, following Mitsubishi Motors' global tagline of 'Drive Your Ambition'.
The retail price for Mitsubishi Pajero Sport Elite Edition 2WD is THB 1,459,000 while the 4WD version is priced at THB 1,574,000. Additional THB 20,000 is for White Pearl with Jet Black Mica roof (two-tone).