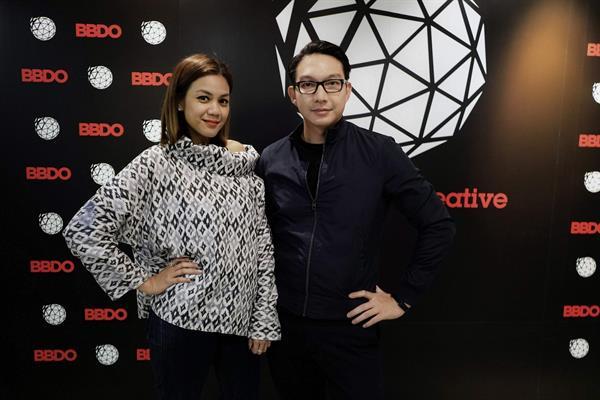 General Press Releases Thursday November 22, 2018 15:34
Bangkok–22 Nov–FleishmanHillard
BBDO Bangkok, a leading worldwide advertising network agency, has recently announced the appointment of Thipayachand Hasdin as Managing Director, promoted from Chief Client Officer and Anuwat Nitipanont as Chief Creative Officer, promoted from Deputy Chief Creative Officer.
In their new role, they will be co-responsible for driving company's strategy and operation. While Hasdin's primary focus is on commercial excellence, Nitipanont will be driving world class creative products. They will report directly to Somkiat Larptanunchaiwong, Chief Executive Officer and Suthisak Sucharittanonta, Creative Chairman.
Hasdin brings more than 18 years of experience in advertising and client management. She was previously Chief Client Officer for BBDO Bangkok where she managed all business's side, Account Management and Planning department, and responsible for agency's growth and expansion in Thailand, Cambodia and Myanmar. Under her three years leadership with the agency, BBDO Bangkok has reached its new high of the size of business despite the years being challenging for the Thai market. Hasdin was named Women to Watch by Campaign Asia in 2017.
Meanwhile, Nitipanont has more than 16 years of integrated advertising experience. Since joining BBDO Bangkok in 2012, he has been instrumental in setting the agency on its "New World Creative" direction, expanding creative and production capability as well as establishing new content creation department for emerging platforms. Under his leadership, the agency rose to become Campaign Brief Asia's Southeast Asia Agency of the year in 2016/2017 and has been in the top 10 hottest agencies in Asia for 3 consecutive years. Nitipanont is also recognized as one of the top 10 creative leaders in Asia for 2017/2018 by Campaign Brief Asia.
Somkiat Larptanunchaiwong, Chief Executive Officer at BBDO Bangkok said, "Our agency is committed to deliver creative works driven by full hybrid talent group of new young blood and experienced advertising professionals. I am confident that Thipayachand and Nitipanont will bring their experience and talent to drive BBDO Bangkok team forward and bring our agency's commitment and vision to life."
Suthisak Sucharittanonta, Creative Chairman said, "Anuwat and Thipayachand are two extremely talented individuals who have helped transform BBDO Bangkok into a "New World Creative" agency. From Anuwat's innovative, world-class award-winning work and eye for exceptional talent to Thipayachand's relentless passion in developing and driving client business, these two are leading the way, ushering both BBDO Bangkok and the greater industry into the future of Thai."
Hasdin added, "As we are moving towards digital era, we aim to encourage our clients to embrace and explore the new way to engage new-generation consumers with our services through digital campaigns and activities. I am honored to drive our business and help create long-term value for our clients' needs."
Nitipanont commented, "We are on a journey to become a new-world creative agency by building a team that is willing to go beyond their limits to initiate effective creative solutions. I am very excited to drive BBDO Bangkok to become a new-world creative agency through our exceptional team, work, and result for our clients.