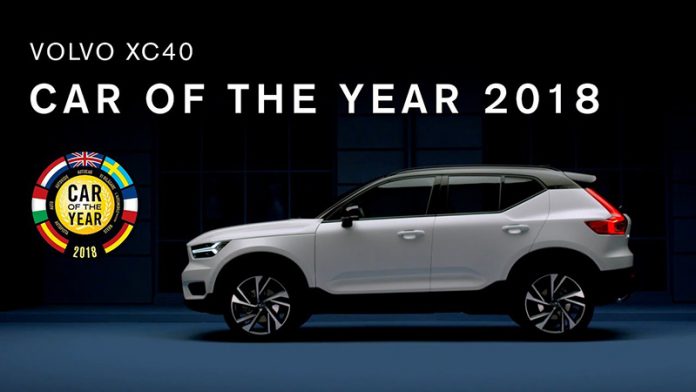 Automotive Press Releases Monday September 10, 2018 16:32
Bangkok–10 Sep–Vivaldi Integrated Public Relations
Volvo Car (Thailand) has launched the Volvo XC40, Volvo's first ever compact SUV 'Designed to Break the Norms' into the Thai market. The new Volvo XC40 is a compact SUV that's big on innovation with charismatic design, ingenious storage and smart technology. It is an entirely new type of Volvo, available in T5 AWD and T4 petrol engine configurations, and starting from 2.09 M-THB.
Following the success of the XC60 that marked a new chapter in Volvo's history in Thailand, Volvo is now proud to introduce a new city SUV which will redefine the segment, proving "it's cool to be Swedish". The new XC40 brings a true contender into the SUV XS premium segment, and is the first global offering within the 40-cluster. XC40 provides industry-leading safety, powertrain and infotainment technologies from the larger SPA platform to this all-new next generation Compact Modular Architecture (CMA).
Mr. Chris Wailes, Managing Director, Volvo Car (Thailand) Company Limited, reveals, "The start of how we developed the XC40 product lies with the platform; CMA – or Compact Modular Architecture – provides many intrinsic benefits when viewed through the lens of innovation. Firstly, it gives us Flexibility in the vehicles we produce, so we can offer different models of different sizes, and it is prepared for several levels of electrification. Most notably, it makes real the idea of going from "90 to 60 to 40″, bringing our large platform technologies from the SPA to CMA and the C-segment. This is especially relevant in the areas of active safety & driver support systems, as well as enhancing the overall Customer Experience; that is, the joy that drivers and passengers derive from piloting and living with our small SUV."
With Volvo XC40, Volvo showcases a sector-leading Customer Experience, with intuitive technology, smart services and advanced packaging techniques which provides outside-the-box cabin storage solutions. Agile handling with next-generation driver assistance technologies show Volvo's advanced approach to creating a small SUV optimized for city driving, all wrought in a design which is simultaneously progressive and expressive. The XC40 completes the Volvo line-up by complementing our luxurious and dynamic SUVs XC90 & XC60. The DNA is the same, but it's important that this is not a scaled down version of our larger cars. It has its own unique character and personality.
Jean-David Harel, Marketing Director, Volvo Car (Thailand) Company Limited, reveals, "The launch of the New XC40 is the big step for Volvo Car Thailand. Our Thai consumers target looks for a fresh and charismatic design, a car that makes their life easier with intelligent spaces and storage, and which also offers a great customer experience with intuitive technologies."
Jean-David Harel added: "The new XC40 gives you all of it! If you select the top-grade, you will have a full R-DESIGN package, some fantastic storage capabilities and a generous cargo space with hands-free power-operated tailgate and plenty of smart technologies like the wireless charging station. It shows that it is cool to be Swedish. At Volvo Cars, we always say that everything we do starts with people. This is how we developed the XC40 launch event concept where everyone is welcome to be part of the show and get a first experience of the new XC40. Today, we are happy to announce that more than 2,000 people will join us during our 3-day launch events."
At Volvo, ever since the 50s we've brought people together from all over the world to develop and build our cars. Diversity sparks creativity and pushes innovation. It helps us to build safer and smarter cars, designed around people's everyday lives.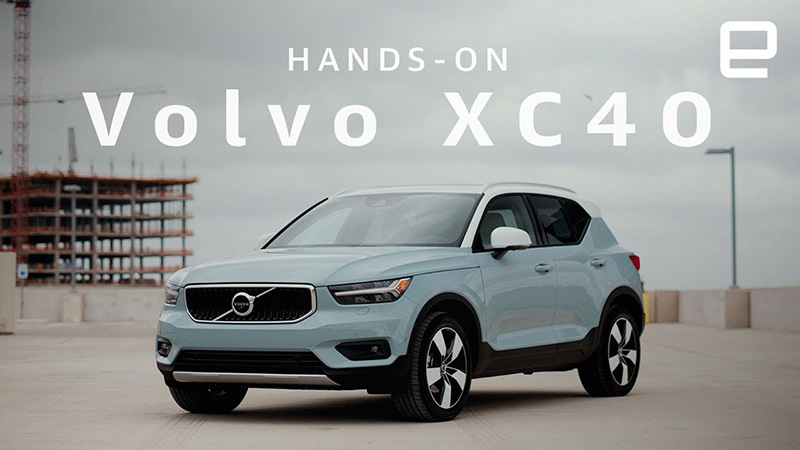 Key Features of Volvo XC40
The Shark Nose and Clamshell Hood – the new face of Swedish creativity
XC40 serves up a host of reasons why it was rightly selected as the What Car? Car of the Year 2018, Autocar Car of the Year 2018, and Autocar Game Changer of the Year 2018.
The new technical look of Volvo's much-talked-about Thor's Hammer LED headlights marries with a clamshell hood which gives a dramatic surface, and frames the curvature of the grille. This concave design motif can also be found in the lower door area, and catches light to add points of interest to the side of the car.
Practicality Reimagined
The XC40's SUV identity is emphasised by its high ground clearance, at 21 cm. It also takes the Utility aspect of SUV to a new level, and in the process reveals one of the reasons why the car has been so highly awarded. Throughout the cabin and tailgate area, Ingenious Storage Solutions can be found everywhere – what else would you expect from the country that pioneered creative, stylish storage!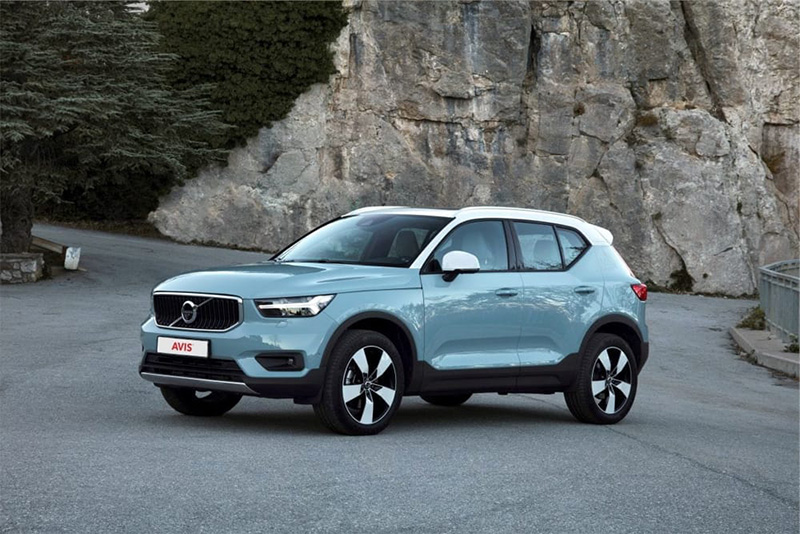 Performance & Safety
Enjoy agile and energetic responses from behind the wheel with a choice of powerful and fuel efficient engines, available in T4 (190 hp) or T5 AWD (252 hp) configurations. Both power plants produce strong, assured acceleration under all conditions, whilst returning top-drawer economy with low emissions.
Volvo's T4 petrol in the XC40 shows off sporty, engaging and eager performance from its 1969cc architecture. Mated to an intelligent shift by wire 8-speed automatic Geartronic transmission, 0-100Km/h of 8.4 seconds, a top speed of 210 Km/h, and peak power at 4,700 rpm are all on tap. It offers a combined consumption of 7.4 L /100 Km (13.5 Km/L).
The T5, proposed with the AWD unique in its segment, delivers an incredible 350 Nm @ 1,800 – 4,800 rpm; the flat torque curve serves to highlight operability under any throttle load, giving 6.4 seconds 0-100 Km/h and a top speed of 230 Km/h. Fuel consumption is noticeably excellent given the performance available, using just 8.0 l/100 Km (12.5 Km/L).
Urban Exploration, XC40 style
The interior is enhanced with an advanced lighting system to give the car a warm and contemporary ambience. Additionally the LED lights pick up the beautiful organic shape of the aluminium decor. This combination creates a feeling of creativity, energy and youthfulness which is unique to the XC40.
Volvo cars have long been recognised for their exceptional seat comfort, ergonomics and long-distance appeal, and the XC40 is no exception. Also, the R-Design interior available on XC40 R-Design is rendered in stunning Charcoal Nappa Leather and Nubuck Textile with blond stitching and piping. Both driver and front seat passenger will enjoy the high seating position which offers very good visibility and a sense of always being in command.
The award-winning centre touch screen comes as standard. Simply swipe and touch to navigate through the functions and apps. It's as easy to use as your tablet. Voice control makes your interaction with the car even easier when driving, and Apple CarPlay and Android Auto are available to seamlessly integrate your digital devices. The driver display is clear and legible, and for fast, easy operation the audio and vehicle information display is optimally placed for the driver. The screen also intelligently adjusts to the surrounding light.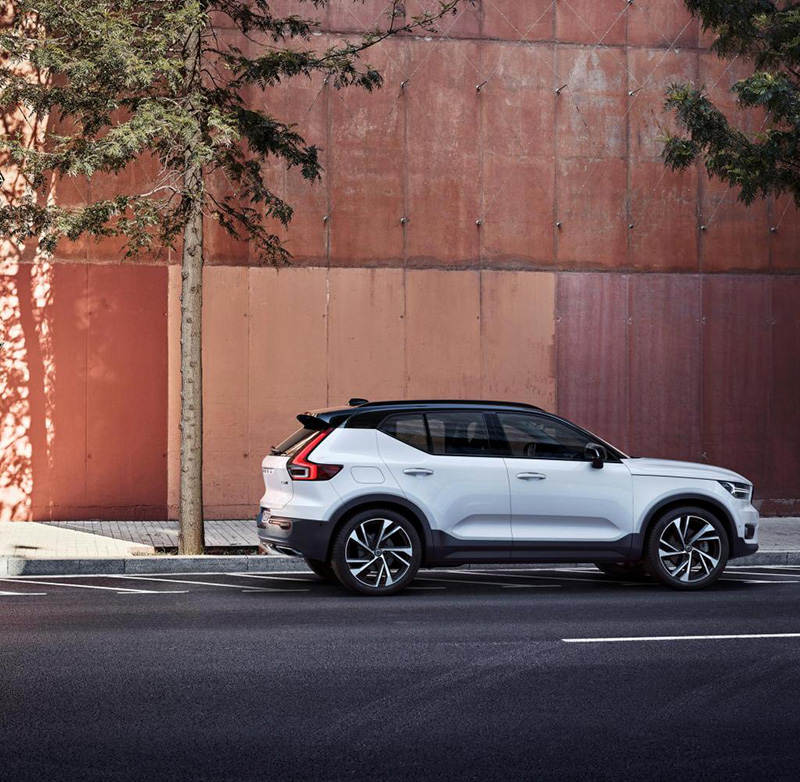 Smart storage everywhere you look
We have created a car for you and your needs, with a particular focus on crafting a vehicle with lots of carefully planned spaces for all your things. Underneath the armrest there is a large storage area which even incorporates a removable trash bin. The days of messy interiors are well and truly over.
Underneath the seat there is a hidden storage area for smaller items. There's also a dedicated space for your phone where you can charge it, a hook for hanging take-out food on the run or a small shopping bag, and of course there are cup holders and plenty of USB charging points too. For the inner door paniers, the entire lower part is allocated only for storage, which makes it best-in-class. This solution is great for large drinks bottles, your laptop or even a small overnight bag.
IntelliSafe paves the way for driving safety in the new Volvo XC40
XC40 becomes one of the safest cars in its segment by inheriting safety and support technologies from the larger 90 series and XC60. Many of these systems are firsts in the small SUV premium segment. Modern city life presents complex challenges for drivers, pedestrians, cyclists and other road users. The XC40 is designed to reduce driver distraction and the so-called cognitive load on the driver.
With safety and driver assistance systems actively identifying and mitigating potential conflicts, driving becomes more relaxed and enjoyable. Features optimized for city driving include a high seating position that gives the driver a clear view of the road, the latest generation City Safety, Cross Traffic Alert with Auto Break, Oncoming Lane Mitigation with Steering Assist and Pilot Assist enables semi-autonomous (for R-Design) driving during parts of the daily commute.
The Soundtrack to your City Life
The impressive door storage of the XC40 is enabled by a new sound innovation. With the top-of-the-line Harman Kardon Premium Sound, the system delivers a detailed and powerful music experience, with exceptionally well handled and encompassing bass performance.
Volvo CMA platform heralds a future of innovation, scalability, and a chance to create vehicles imagined on the premise of really understanding your needs and desires. Everything we do starts with people, and the end result is the multi award-winning XC40.