The Hemingways bar and restaurant in Jomtien has well and truly cemented its position as one of the more popular venues in the area, with usually something going on each day and night of the week to keep regular clientele and newcomers interested.
Monday night remains as Quiz Night with a 1,000 baht Hemingways voucher up for grabs for the winning team in this friendly, free-to-enter quiz night. Also on Monday there is a steak special where you can enjoy a 250-gram Australian rib eye or Sirloin steak from just 395 baht.
Tuesday is Pizza and a Pint day where you can enjoy a pizza of your choice and a pint of Heineken or Tiger beer from 290 Baht. You can even change the beer to a house spirit or a glass of wine.
Wednesday is pie night, with a choice of six pies, chips or mash and mushy/garden peas or beans for just 199 baht.
Thursday's special promotion is the Ploughman's lunch for 220 baht while Friday's food special is Gammon steak at 199 baht and is also Killer Pool night, with entry just 100 baht. The tournament kicks off at 8.00pm.
Saturday and Sunday are roast dinner nights, for just 250 baht, which must be one of the cheapest deals in the city.
Other menu delights, available every day, are cheese and bacon potato skins, French onion soup, chargrilled burgers, loaded nachos complete with guacamole, sour cream, jalapenos melted cheese and chili con carne, as well as their Philly cheese steak sandwich. As a family friendly place they also have a kids menu that includes fish fingers, chips and beans, chicken nuggets and mini burgers.
Saturday's features live sports from the English Premier League to Formula One to the Australian staples of AFL (Aussie Rules) and the NRL (rugby league) as well as golf and tennis whenever and wherever they occur.
On Tuesday's, Wednesday's and Friday's the bar plays music videos and in November Hemingways will once again restart its live music on Thursday's.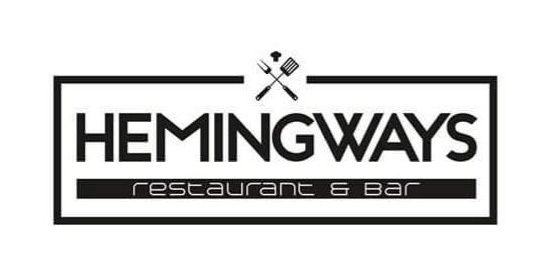 Hemingways holds a monthly free raffle where a total of 20,000 baht in Hemingway's vouchers are given away. Twenty separate prizes ranging from 200 baht to 3,000 baht can be won. To enter at any time during the week, simply write your name, email address and mobile number on the back of your receipt and post in the raffle box. The results are posted on their website each month.
To find Hemingways simply make your way along Thappraya Road and turn right at the traffic lights towards Dongtan Beach. Hemingways is located on the right side of the road not too far from the archway.
Hemingways is open Monday to Friday from 9:30am until midnight, and Saturday/Sunday until late (sports finish). For more information please visit their website at http://www.hemingwaysjomtien.com or call them: 094 010 5687