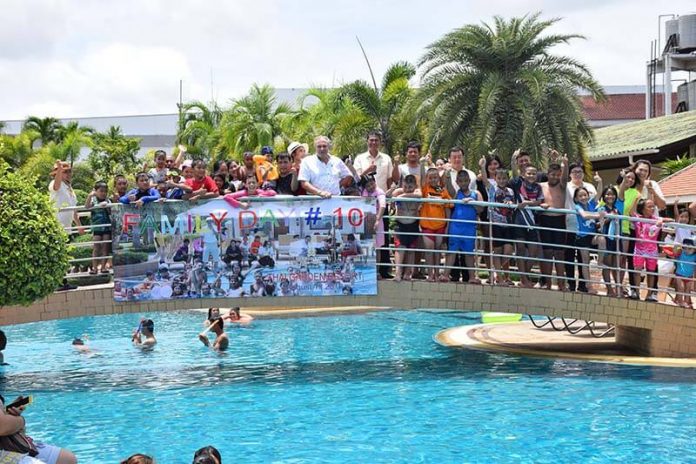 The Thai Garden Resort hosted its 10th-annual family day for its employees, giving them a chance to partake in all the hotel's activates just like being a guest in the hotel.
Almost 300 moms, dads and kids enjoyed a fantastic day along the huge swimming poolon August 18, 2018. Everyone took turns jumping, swimmingand having a great time in the 63 meters long swimming pool.
Thai Garden Resort's General Manager Rene Pisters personally took care of the "guests" and managed to make them smile and laugh the entire day. As per Mr. Pisters: I find it essential that the family members of our team are aware where their husband or wife, father or mother spends their days of working, be it cooking, making rooms, or serving guests at the Thai Garden Resort. The family members must have the opportunity to see and experience where the parents work and in what environment they make their living. We regard ourselves as one big family and our team members are the ones who contribute to the success of the hotel and the satisfaction of our clients.
Since fun and games makes one hungry, a sumptuous lunch buffet was prepared with all the goodies children like the most.
This family day showcases the creative teamwork of the management and the employees and it shows that, without this kind of spirit, no hotel would be able to operate properly.
Many children already asked what date they have to reserve for next year's family day !!
 Mitarbeiter-Familien Tag im Thai Garden Resort
Das Thai Garden Resort führte seinen 10., jährlichstattfindenden, Familien Tag für alle im Hotel angestellten Mitarbeiter durch, um auch ihnen und ihren Familien einmal die Möglichkeit zu geben sich wie Gäste zu fühlen und alle Serviceangebote des Hotels zu nutzen.
Am 18. August 2018 genossen fast 300 Mütter, Väter und Kinder einen fantastischen Tag am Großen Pool des Resorts.
Jeder der Angestellten und ihre Familien hatte eine großartige Zeit mit Spielen, Sprüngen und einfach nur Spaß am 63m langen Swimming Pool.
General Manager Rene Pisters kümmerte sich persönlich um seine speziellen Gäste an diesem Tag und zauberte ein Lachen in die Gesichter aller Besucher.
Herr Pisters sagte: "Ich finde es sehr wichtig, dass die Familienmitglieder unserer Angestellten sehen und wissen wo die Mütter, Väter, Ehemänner und Ehefrauen arbeiten in dem sie zum Beispiel kochen, Zimmer reinigen oder anderweitig den Gästen des Hotels ihren Urlaub unvergesslich zu gestalten. Die Familienmitglieder sollten die Möglichkeit bekommen zu sehen wo die Eltern arbeiten und ihren Tag verbringen.
Wir sehen uns selbst als eine große Familie und unser Team trägtmaßgeblich zum Erfolg des Hotels und der Zufriedenheit unserer Gäste bei.
Da Spaß und Spiele sehr hungrig machen, stand natürlich auch ein großartiges Buffet mit allen, gerade bei den Kindern, beliebten Speisen zur Verfügung.
Dieser Familientag zeigt ausdrucksvoll die kreative Zusammenarbeit zwischen Angestellten und Management und beweist, dass ohne diesen speziellen Spirit kein Hotel in der Lage wäre einwandfrei zu funktionieren.
Viele der Kinder waren so glücklich, dass sie bereits jetzt schon fragten, welche Tag sie fürnächstes Jahr im Terminkalender festhalten sollen….