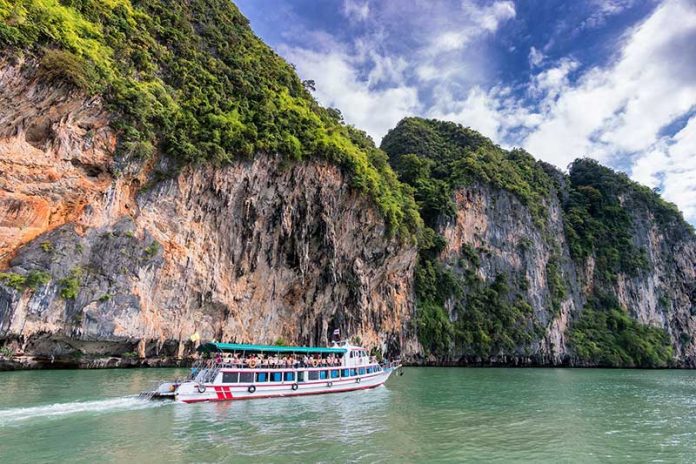 At a seminar run by a National Legislative Assembly committee on religion, culture and tourism, it was strongly suggested that all tourists to Thailand should have adequate travel insurance to cover expenses arising from accidents, common hazards and other possible instances where a claim may be required. Examples may be motorcycle and scooter hire and car hire but should be extended to more risky pursuits such as scuba diving, jet skiing, boating, trekking, and mountain climbing.
The plan that is being floated is to make travel insurance mandatory for all visitors to the Kingdom in order to reduce the load on the country's tourist compensation fund which has paid out a great deal of money recently due to boating tragedies in Phuket. The fund is in danger of being completely depleted.
Tourism and Sports Minister Weerasak Kowsurat backed the proposal that would see all visitors to Thailand require travel insurance as a condition of entry.
This would help to appease Chinese tourists who have been hesitant to come to the country after hearing news of the unfortunate boating accident involving the Phoenix tourist boat which sank in Phuket in July, causing 47 deaths. Following the tragedy many tourists cancelled their travel plans to Phuket.
The president of the Association of Thai Travel Agents, Vichit Prakobkosol, was quoted as saying, "Chinese tourists have cancelled bookings made for July, August and September,"adding, "The cancellations have damaged the tourism business on the Andaman coast."
The governments own tourist compensation fund had already paid out around 60 million baht in relation to the Phoenix accident and was in danger of going broke. These payments were made on top of insurance claims.
Mr. Kowsurat was quoted as saying, "Safety cannot be comprised," adding that any tour company that does not follow safety procedures would face the consequences.
Many Western tourists who come to Thailand already have travel insurance, however there are policies that have limited payouts or high excesses, so it may be just a case of ensuring that coverage is adequate.
Another plan floated was to make available GPS trackers for Chineseand other tourists so that they could not get lost. This would help to account for people in an accident as well as help to find those who are trekking in more remote parts.
35 million tourists visited Thailand last year of which Chinese tourists made up nearly a third of these. Chinese tourists spent 500 billion baht, close to a quarter of the total tourist revenues that came in at around 1.8 trillion baht. Out of the 10 million Chinese tourists visiting the Kingdom, approximately a third of them visited Phuket spending 150 billion baht in the province.