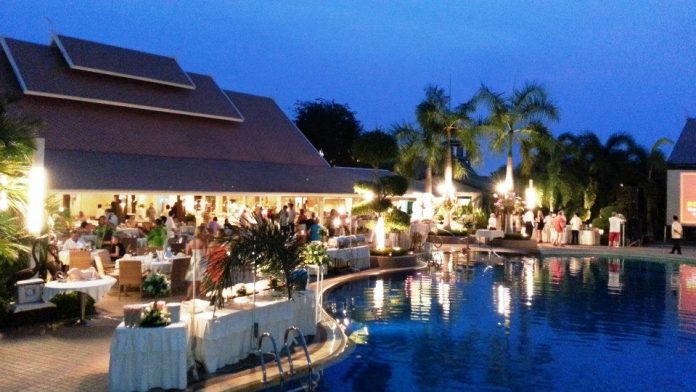 The Thai Garden Resort, which opened in 1988, is one of Pattaya's longest-established and most successful businesses, and this year celebrates its 30th anniversary.
The hotel-restaurant business is a tough marketplace at the best of times, but this resort-style hotel, centrally located along North Pattaya Road and therefore close to everything Pattaya has to offer, just keeps doing things right year after year.
The spacious, open-air Lobby is the perfect traditional Thai welcome for guests, with beautiful orchid arrangements and original applique murals created by artisans from Chiang Mai. The hotel is spacious at 25,000 square metres, with beautifully kept tropical gardens a main addition to the relaxing atmosphere. The hotel comprises 228 rooms, with no buildings higher than two storeys, which is perfectly in line with the intimate comfort of the hotel.
The Thai Garden prides itself on the fact their guests really do appreciate 'the personal touch' for which the hotel is known.  Many of the 160 staff have been with the hotel for a long time.
Over the last couple of years the hotel has been completely renovated with an added emphasis on environmental concerns, including a significant long-term investment in solar panels which provides the hot water to the rooms. The hotel continues this policy throughout, for example, by cutting out unnecessary packaging.
One of the outstanding features of the resort is the beautiful pool area. The pool is 63 metres long and encompasses jacuzzi areas, foot massage, various other stimulating water features and a separate children's pool. The pools use a salt water chlorination system. There are ample sunbeds, each with a service button connected to the poolside bar.
The hotel has received many awards to date, including the Travelife Gold Award as well as with the TUI Umwelt Award plus the Green Leaf certificate for their efforts in regards to sustainability, environment, safety and health matters.
There is a nightly all you can eat buffet at the Thai Garden Terrace Restaurant with different cuisine, from international, BBQ, Steaks & Skewers and Roasting Pig with all the trimmings for only 399 baht Nett, no ++! – representing great value for money. And for families children under 12 years eat for 199 baht nett, with infants under 4 free! The buffet runs from 6.00 p.m. to 9.00 pm every evening.
Importantly, the ingredients used for each nightly buffet is of the best quality. While the price remains sensational value, the management have not scrimped on the freshness and quality of the foods they offer for the buffet.
There is also a three-piece strolling band from the Philippines to play your requests at your table.
Before the end of the year the Thai Garden Resort will have a new neighbour close by, in the form of the Terminal 21 Shopping Mall, which will also be a great new addition to the Pattaya landscape.
The Thai Garden Resort is located on the North Pattaya Road, and for more information please call 038 370 614; email: [email protected] or visit their website at www.thaigarden.com