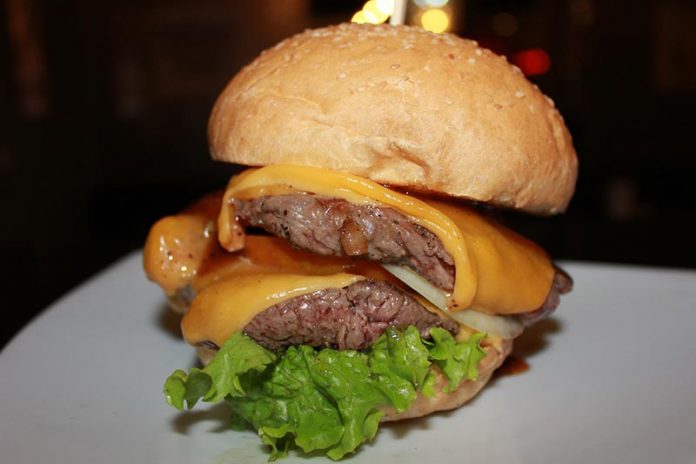 The Toscana Italian restaurant began April by introducing a new lunch-time special menu featuring a range of burgers. The new menu is designed to appeal to those people who may have spent the morning on Pattaya beach and just want to skip across the road and have a quick and easy bite to eat before either going back to spend the rest of the day on the beach, or return to their hotel to get ready for the evening.
What separates the Toscana burger offering from the numerous burger places dotted along Beach Road and elsewhere, is that all the ingredients are sourced from one of the two organic farms operated by the restaurant on the outskirts of Pattaya.
Whether it's the burger patty itself- and this is available in a wide variety of meats from pork to chicken to veal to lamb and even goat- to the lettuce, tomato, or any other garnishing to the butter and the bread roll itself, it is all produced from the farms. This ensures not only the freshest taste but sets the Toscana burger menu apart from anywhere else in Pattaya as having the most natural, organically-grown ingredients, a claim no-one else can make.
The aim of the burger menu is to encourage people to feel they can simply drop in to Toscana without the need to get too formal when it comes to attire. It is also meant to encourage people to partake of an easy selection of dishes, not just burgers. From cheese platters for one or two or more diners to selected naturally-processed meat platters for one or two or more diners to a wide selection of breads, the choices are almost endless.
Focaccia and Panini have to be special favourites among those who enjoy their Italian-style food and this is on offer during the lunch-time menu (as well, of course, during the rest of the day and night) while Porchetta is a perhaps more specialty dish for true meat lovers.
Of course, the hot weather at this time of year also encourages indulgence in desserts, and the Toscana menu is replete with the most natural selection of ice creams and sorbets. All the desserts are made from natural ingredients, all of which are sourced from the organic farms and prepared in-house. And be sure to sample the home made yogurt made from the daily supply of fresh milk from the farms. The taste difference compared to anything else in the marketplace is obvious and keeps people coming back for more.
There can't be much better dining experiences than to sit outside on the terrace overlooking the beach – or inside in a fully air conditioned environment if you need a break from the heat of the day – while munching on a burger and sipping an ice-cold beer, or maybe just tucking into a bowl of ice-cream as you watch the world go by.