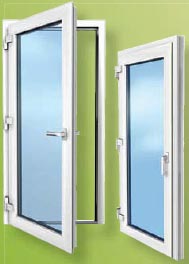 Although it may only be more subliminal than obvious, a house or condo which sports the best quality of uPVC window frames and glass is generally the kind of residence which is immediately attractive to outsiders and reveals a measure of that elusive quality called 'class'. Additionally, a house or condo fitted out in such a way is usually made more valuable as a saleable commodity.
Naturally, there are a number of companies operating within the uPVC space in Pattaya, but one of them is a definite standout when it comes to longevity within this specialist space, and that is the German-run VEKA uPVC Windows & Doors.
For many long-time residents and regular visitors the VEKA company might be more familiar under its previous incarnation as ARC Windows & Doors. Indeed, the VEKA website is still HYPERLINK "http://www.arc-windows-doors.com" www.arc-windows-doors.com, reflecting a desire to maintain a link with the past while moving forward into a brighter future.
The German VEKA Group has been around since 1969, established in Sendenhorst, Germany, and claims to be the world-wide leader in uPVC profiles.
The Thai-based arm of the company offers custom-made windows and doors in any style and configuration to match the needs of customers.
For example, in high buildings where strong winds at times can be a problem, it's important to install windows that will not bend, but maintain their structural integrity.
Leaking windows under heavy rains are also a perennial problem that should be easily addressed with properly-fitted uPVC windows and doors.
In a succinct Power Point presentation, the operators of VEKA put forward a strong case for the installation of their product in any house or condo. The two key factors for installing uPVC windows and doors are excellent thermal insulation (surely a huge factor in this tropical climate) and excellent acoustic insulation. As well, the products offer security and strength and are virtually maintenance free. The only real downside is the initial cost factor. After all, quality does come at a price, but if the end result is a long-term reduction in electricity costs, for example, then the initial outlay is well worth it.
If your house or condo is exposed to direct sunlight the chances are you'll want to install double glazing, simply to offset the harsh heat, as well as outside noise. The uPVC frames manufactured by VEKA are fitted with a galvanised steel reinforcement to provide mechanical stability.
As the company notes, 'windows and doors are very special architectural elements…They must function reliably, whilst looking good both from the inside as well as the outside.'
'A perfect window is made of high quality glazing, a robust frame and casing, strong hinges and locks, and a well-designed handle.' VEKA ticks all the boxes when it comes to these requirements.
For further information contact VEKA on 081 377 4941 (for English) or send an email to [email protected]