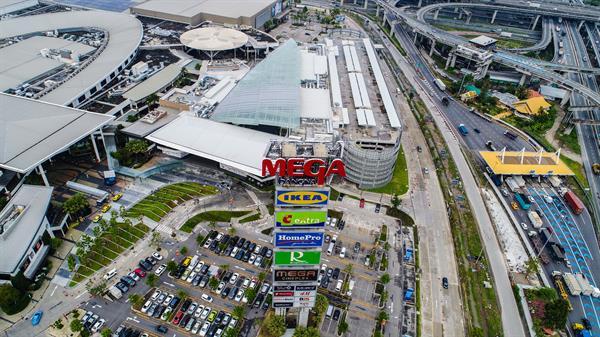 http://www.thailand4.com/.prop/2018-02-13/a58a4d517d53f38085f44251697fa798/
Real Estate Press Releases Tuesday February 13, 2018 14:59

Bangkok–13 Feb–Triple P Connection
SF Development, owner of Megabangna shopping centre, has revealed its new retail extension "Mega FoodWalk". The extension of the shopping centre features 10,000 sqm of additional retail space as well as a 7-storey-carpark building to cater for the growing demand of more parking spaces. The opening resulted in an impressive 15% visitation growth for the month of December, compared to last year.
Two new phases extending the retail destination and enlarging the experience, education and leisure offer are currently ongoing. The first "Marvel Experience" in Southeast Asia, offering customers an interactive entertainment park, opens in May 2018, followed by the international preparatory school "Didyasarin" affiliated with American School of Bangkok, opening their doors in August 2018. In addition, a new extension focusing on kids' education and fun activities will be built in connection to the existing Mega kids zone, aiming to further strengthen Megabangna's focus on a family friendly offer.
Megabangna will also add a new customer touch point "Mega Park" where our customers can spend their quality time with families and friends for recreation and leisure in a green environment. In addition, the centre has opened its extended surrounding Ring Road with its aim to cater for the increasing car traffic demand of its future development projects.
Mr. Christian Olofsson, Shopping Centre & Mixed Use Director, IKEA Southeast Asia, said "We envision the Megabangna shopping centre to be a centre piece of a modern community in the future, a city where people work and live close to the place they shop, eat, meet with friends and spend time with their family. The transformation from today's retail destination will of course happen over a series of phases, but we see Megacity hosting an even larger commercial offer, while also including experience venues, hotels, office buildings, residential properties, park and leisure components on the 400 rai that we have at our disposal. With a capacity to cater for over 250,000 people per day, it will be a sustainable development equivalent of a city, which is why we call it Megacity."
Bangna is one of Bangkok's most desirable suburban areas, with high spending power, great quality education opportunities and close proximity to the international airport and eastern seaboard. Investments into new mass public transport projects, such as the new MRT line and future light monorail, provides additional benefits for developers and investors that wants to join hands with us in realizing our vision for Megabangna and
Megacity. Mr. Olofsson said. Ms. Paphitchaya Suwandee, President, Megabangna Shopping Centre, said "We are excited to see our first extension phase Mega FoodWalk come to life. With this extension, we have strengthened our total food offer by providing more than 160 restaurants to our customers. In 2018, we will further welcome over new 100 tenants and offer a better customer experience through the centre's refurbishment program. Our ambition is to develop
Megabangna as a true Meeting Place that offers more than just shopping. An opening of Marvel Experience and Didyasarin international preparatory school is another step we are taking to realize our ambition."
In 2018, Megabangna has increased its marketing budget by 20% comparing to last year, with a main focus to communicate its new offers to a wider group of customers, domestically and internationally. The centre expects to receive 10% increase of visitation throughout the year.
"We will continue to deliver memorable experiences to our customers through signature events. The Mega Countdown 2018 has earned us a title "best" countdown destination in Eastern Bangkok, with an impressive audience number of over 350,000 on the New Year's Eve. We are currently working with The Walt Disney to bring to our centre the Dream Big Princess event in order to create an enjoyable experience for our kid customers." She said.
"We never stop to listen to our customers as we learn so much from them about what they want and how we can improve. It is our ambition to turn Megabangna to be a great Meeting Place where our customers feel special and unique at every visit they make to our centre." she concluded.