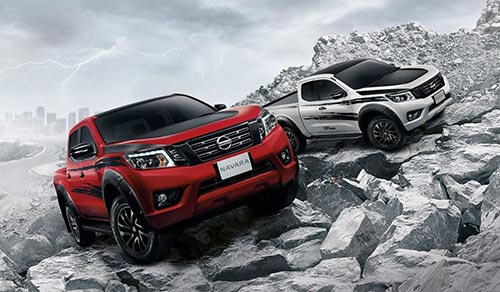 Several undercurrents will drive Thailand's automotive sector in 2018 according to the Federation of Thai Industries. (FTI).
On the one hand the domestic market for cars and pick up trucks is strong and is expected to grow by about two per cent to 870,000 units.
Exports on the other hand are expected to stay steady at 1.1 million units, and may be affected by various rules and regulations on tariffs and other non-tariff barriers in several countries both locally and globally.
Overall, car production in Thailand will rise around 1 per cent to 1.97 million units in 2018 to cover both the domestic and export markets.
Regarding the measure of possible non tariff barriers, the spokesperson of the FTI's Automotive Industry Club, Surapong Paisitpatanapong was quoted as saying, "This measure can result in a large momentum for global trade, which will affect the country's automotive exports," adding, "Vietnam for example may have a car inspection barrier at its ports even as it is set to reduce import duties for Thai-made cars early next year"
The local market has benefitted from, and is expected to continue to bask in good economic conditions with Thai GDP expected to hit up to four per cent in 2018. Growth will likely pick up pace due to government infrastructure projects, increases in tourism expenditure and growth in exports in many sectors.
Surapong Paisitpatanapong was also quoted as saying, "We are not worried about the local market in 2018 although the growth pace may be slower than in 2017," adding, "Once massive public and private investments set in, the car market may expand higher that we expected"
New car launches have also buoyed the domestic market with grand advertising schemes attracting prospective buyers for new models.
In related news the FTI's Automotive Industry Club reported that production in the last reported period, November 2017, rose by a bigger than expected 11.5 per cent to 190,385 vehicles. The increase was mainly due to a rise in the production of pick up trucks, up nearly a third, to 70,236 units. Exports were also up in November by 4.64 per cent to 103,042 vehicles.
November numbers topped off a good rate of increase in 2017. In the first 11 months of the year, production rose 1.27 per cent to 1.83 million units. However In the same period exports were down 5.31 per cent to 1.04 million units. The total value of exports in the auto sector was 553 billion baht in the period.
Mr. Paisitpatanapong was also further quoted as saying, "Car exports have declined for two consecutive years while the domestic car market has picked up for the first time in five years.