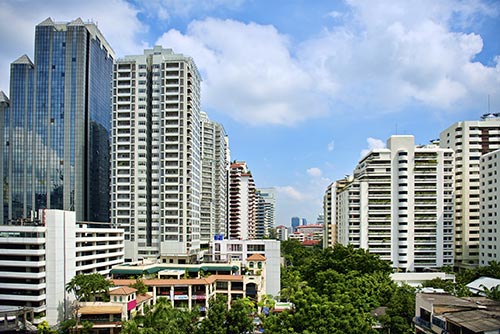 According to the leading property consultant, Nexus Property Marketing Co., condo prices may see a rise of eight per cent this year on average. This is in spite of the fact that a new land and buildings tax is due to come into force in early 2019,
The managing director of Nexus Property Marketing Co., Nalinrat Chareonsuphong was quoted as saying, "There is unlikely to be forced sales among landowners who are pressured by the land and buildings tax," adding, "If the tax is effective, they have options to apply to their assets anyway and will not need to sell the plots."
Indeed condo prices will likely keep rising as land supply becomes ever more scarce, especially in property hot spot areas.
Prices per square meter in Bangkok were likely to average 130,600 compared to 121,000 last year.
Across Bangkok different areas enjoyed different price rises based on the previous year-on-year data.
The highest price increases were seen in Pathumwan and Ratchathewi, near where the Baiyoke Tower and the Pantip computer mall are located. Prices in this area jumped 16 per cent to hit nearly 240,000 baht per square meter due to limited supply and increased land prices.
Yannawa, Bang Khoaem and Klong San saw 12 per cent increases to 175,000 baht per square meter, whilst Klong Toey saw price increases of 11 per cent to 210,000 baht.
Lesser price increases were found in more remote parts of the city, but prices rose nonetheless. In Lat Phrao prices rose six per cent to 72,000 baht per square meter and in Chaeng Watthana prices remained amongst the lowest in the city rising by only two per cent to 62,000 baht per square meter
All of these price rises come with a bit of a quandary and that is that new condo supply is running much higher than the average. Generally in a market when there is rising supply, prices fall, but the opposite seems to have occurred in Bangkok. Supply of condos hit 550,000 units nationwide and in Bangkok new condo (finished) supply hit 53,600 units, some 15 per cent higher than the 5 year running average. New condo launches in Bangkok this year hit 62,700 units within 128 projects, the highest level seen in a decade.
Ms. Nalinrat was also quoted as saying, "Next year the property market will be in transition, driven by various factors including foreign investment, exponential growth in Cambodia, Laos, Myanmar and Vietnam, the ageing population and technology for new property developments."