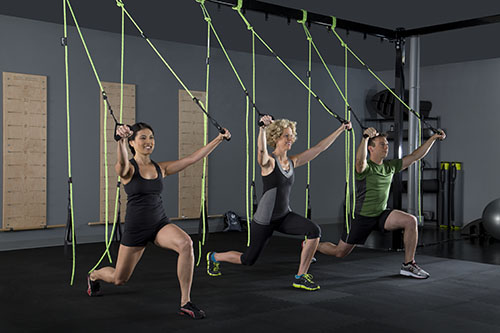 US-based Anytime Fitness, provider of 24-hour health and fitness clubs worldwide, introduced its new gym in Bangkok by way of a franchise arrangement. It is located on Wireless Road and is expected to be the start of many more to come.
Chief executive of Anytime Fitness Asia, Maurice Levine was quoted as saying, "We are thrilled to be in Thailand and offer a financially compelling franchise system that delivers a safe, secure and welcoming environment for Thais to get healthier," adding, "The popularity of fitness business has continued to increase in Thailand over the past few years because of health concerns. There are many fitness chains available in Thailand including major players like Fitness First, We Fitness, Virgin Active and Jatomi Fitness Club."
What makes Anytime Fitness stand out is its round the clock access, affordability and friendly staff. Also popular is that members can enjoy the facilities of any of the groups' fitness facilities around the world, currently numbering over 3,000 with 400 located across Asia alone.
Chuck Runyon, co-founder and chief executive of LLC, the company that owns the US based Anytime Fitness chain was quoted as saying, "We look forward to further growth in Thailand, Asia, and around the world. We will open as many Anytime branches as it takes".
Q3 GDP growth is best in four years
Thailand's economy expanded by 4.3 per cent year on year, the highest level in more than four years based on a third quarter annualized basis.
Tourism and exports lead the way, with domestic demand following. The average forecast based on a Reuter's poll was for growth to come in at 3.7 per cent year on year, and so this number was surpassed by quite a large margin.
Exports remained strong even though the Thai Baht hit its highest level in two years.  Thailand's central bank is expected to keep interest rates at 1.5 per cent at its next meeting, which will help to ensure domestic demand keeps buoyant.
High down payment for Apus's new condo pays off
Apus Development Group Co, a property developer based in Pattaya sees merit in continuing its policy to request a 30 per cent deposit on its new condos. The aim is to reduce the number of speculators and so reduce transfer failures at completion.
Managing director of Apus Development Group Co, Chalermphon Khoncham was quoted as saying, "When units are unable to transfer, they will return to us and hurt us eventually," adding, "We are not a big player. We do not focus on speeding up sales during a launch period like a big firm does."
The policy was used on a previous condo development and it did indeed reduce failed transfers to almost zero.
Mr. Khoncham was also quoted as saying, "Most of the buyers who paid the down payment usually receive the unit transfer, as the down payment rate is high and the unit had a capital gain in price," adding, "We will continue to use this strategy as it helps us reduce risk."
Their newest condo in Khao Pratumnak is Andromeda, which features units priced from 2.8 million baht.