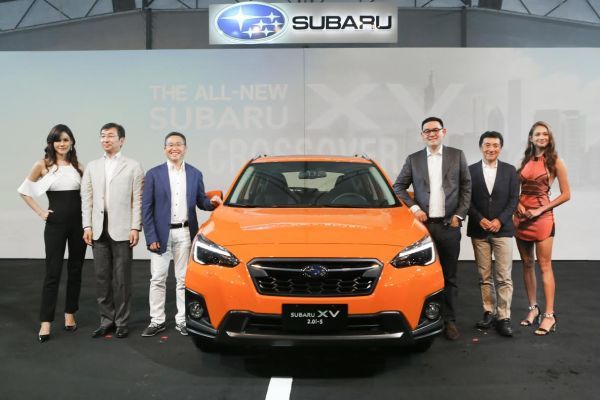 Automotive Press Releases Thursday June 15, 2017 16:17  
Bangkok–15 Jun–4D Communications
The second model to employ the revolutionary Subaru Global Platform
Motor Image, the exclusive distributor of Subaru vehicles across nine countries in Asia, has launched the All-New Subaru XV in Taiwan.
Representing the first full model change since the original Subaru XV was launched in 2012, this new crossover will excite drivers in a multitude of settings, from urban driving to the great outdoors. It is also the second model to employ the revolutionary Subaru Global Platform which will make every drive an experience with heightened levels of confidence, comfort and control.
"The All-New Subaru XV is a unique crossover vehicle that combines practicality with aesthetics and performance. It is a bold car suited for drivers to Unpark their lives and go on activities that they love," said Mr Glenn Tan, Executive Director, Tan Chong International Ltd. We are thrilled to launch this new vehicle built on the new Subaru Global Platform, with improved interior and exterior styling. With this, we are confident that the All-New Subaru XV will exceed expectations and deliver a driving experience that is second to none."
The All-New Subaru XV features:
Brand-new Subaru Global Platform, which delivers less shake and less body roll, and way more fun
2.0-litre Direct Injection Naturally Aspirated Boxer Engine
Symmetrical All-Wheel Drive equipped with X-MODE
Rugged and sporty design with enhanced interior and exterior quality
Enhanced safety features such as High Beam Assist, Steering Responsive Headlights and Subaru Rear View Detection
The All-New Subaru XV will be available in two variants* featuring Direct Fuel Injection Naturally Aspirated Engine which produces 156PS at 6000rpm:
Subaru XV 2.0i
Subaru XV 2.0i-S
The 2.0-litre Boxer Engine has been revamped, making the new engine approximately 12kg lighter and equipped with Direct Injection to deliver more power and fuel economy. The Lineartronic transmission is also 7.8kg lighter than previous models and features auto-step shift control and 7-speed manual mode function which enables the driver with greater control.
In addition to Subaru's Symmetrical All-Wheel Drive system, the All-New Subaru XV now comes equipped with X-MODE, which enhances driving performance on challenging terrain through optimised integrated control of the engine, all-wheel drive system, brakes and other functions. The Hill Descent Control setting gives drivers greater peace of mind by maintaining low speeds on downhill slopes.
The Subaru Global Platform dramatically increased the All-New Subaru XV's rigidity throughout the body and chassis by over 70 per cent compared to previous models. This reduces vibrations and body roll, which results in a quiet, smooth ride. A quicker steering gear ratio and lower centre of gravity has also been achieved which empowers drivers with highly responsive steering and straight line stability.
The All-New Subaru XV features a distinctive rugged and sporty design that incorporates the company's new DYNAMIC x SOLID design philosophy. This will bring Subaru's aesthetic designs to the next level with detailed finishes in the interior and exterior.
The exterior features Subaru's iconic hexagonal grille with C-shaped headlights, matte-black cladding on the front bumper and a new aluminium wheel design. The new vehicle sits in a wide and low stance, underlining the rugged character of the All-New Subaru XV, while combining advanced styling with superior aerodynamics while retaining the high ground clearance of 220mm.
An 8.0-inch touch-screen display infotainment system is featured in the interior which offers Apple CarPlay that enable drivers to stay connected safely. The spacious design flow in the All-New Subaru XV gives a sporty, yet refined interior that surpasses its class. In addition, functionalities such as all-round visibility, cabin space and cargo room have been improved.
Subaru takes upmost pride in safety and the All-New Subaru XV recently won the Grand Prix Award in Japan New Car Assessment Program (JNCAP) Collision Safety Performance Assessment with the highest score ever.
Passive safety in the All-New Subaru XV has also been improved as a result of the new Subaru Global Platform's frame structure, with enhanced body strength resulting from an increased use of high-tensile steel. This enables improved energy absorption in the event of collision by 40 per cent over present models.
High Beam Assist technology is featured on the All-New Subaru XV which uses a monocular camera that is integrated into the interior rear-view mirror. It detects preceding and oncoming vehicles and automatically switches headlights between high and low beam. The automatic antiglare function on the interior mirror uses a sensor to detect strong light from sources such as the headlights of following vehicles and automatically adjusts reflectivity to reduce glare and make night-driving safer.
Steering Responsive Headlights is also fitted on the All-New Subaru XV which will allow the headlight beam to move according to the direction of how the car is steered, maximising dusk visibility and safety. Additionally, Subaru Rear View Detection is equipped for added safety and convenience. The sensors placed around the vehicle offers blind spot detection for safer lane change and warns drivers on potential collision danger while reversing into a street with cross traffic.
*Specification data and model lineup may vary according to markets. For more information, please check with respective local Motor Image personnel.