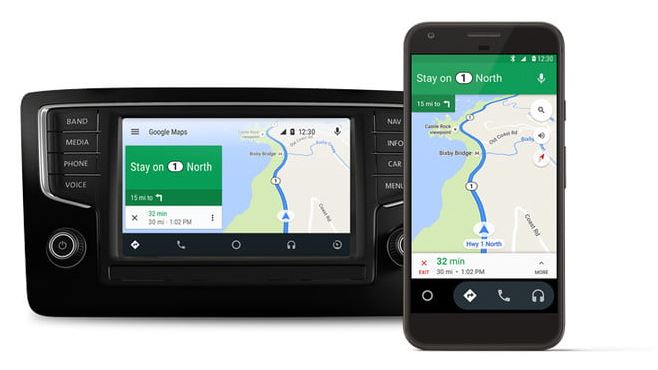 Google, Apple, and car companies are in a relentless three-way tug-of-war for control of your dashboard. Automakers generally prefer that motorists use a car's native infotainment software, but the rival tech giants offer alternatives that are often better packaged and markedly more intuitive to use. Google's proprietary projection standard is called Android Auto.
Android Auto makes driving safer by minimizing distractions, at least according to Google. Like Apple CarPlay, it was developed to encourage motorists to keep their eyes on the road, and their hands on the steering wheel.
WHAT DOES ANDROID AUTO DO?
Android Auto takes the features you love about your Android-powered smartphone and puts them directly in your car's dashboard. Nifty, isn't it? It displays information on a familiar, easy-to-use interface with cards you can swipe out of the way, legible menus, and large icons.
One of the best parts of Android Auto is the Google Maps-powered navigation system, which provides step-by-step directions and automatically finds an alternate route if it detects heavy traffic. It also ports over saved destinations from your phone, so you won't have to manually type in the address for "Home," "Work," or your favorite local restaurant. The software also gives motorists on-demand access to millions of songs and podcasts, lets them surf the web, and allows them to stay connected by making phone calls and sending messages.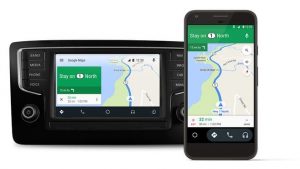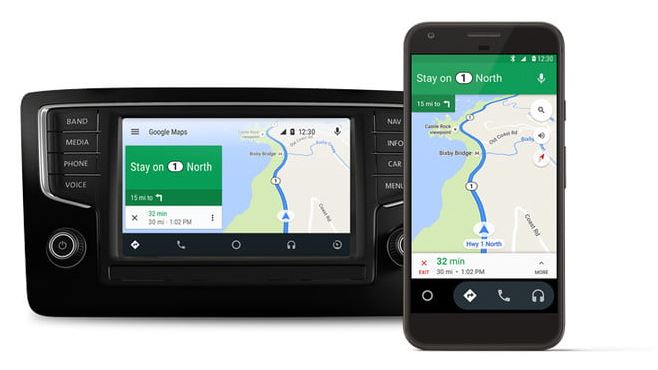 All of the aforementioned features respond to basic voice commands, too. You can say "OK, Google, play The Offspring," or "OK, Google, what's the capital of Australia?" With voice commands, you can even reply to messages using speech-to-text technology. However, don't worry if your car isn't equipped with voice-recognition technology, as Android Auto's features are accessible using the touchscreen in your car. Just keep in mind that your smartphone's screen will be locked when Android Auto is active.
Android Auto also works with a host of third-party apps, including Pandora, iHeart Radio, Skype, WhatsApp, and Spotify. However, vehicle settings aren't part of Android Auto, so the driver has to exit the application to adjust climate controls, browse radio stations, or select a different driving mode. That said, Google is working with carmakers to create new, Android-based infotainment systems where all of these features will be accessible from one place. Read more about there here.
WHICH PHONES ARE COMPATIBLE WITH ANDROID AUTO?
Android Auto works with all Android-powered phones that run 5.0 (Lollipop) or higher. You need to download the free Android Auto app from the Play Storebefore getting started, and you'll need to connect your phone to your car using a USB cable. Google promises wireless support will be available in the not-too-distant future, but it's not here yet.
WHICH CARS ARE COMPATIBLE WITH ANDROID AUTO?
Dozens of new cars are compatible with Android Auto. However, keep in mind that some manufacturers charge buyers extra for the feature, and others choose not to offer it on cheaper trim levels.
Android Auto-compatible cars include most members of the Mercedes-Benz lineup plus numerous Chevrolet, Kia, Honda, Volvo, and Volkswagen models, among many others. The full list can be found on Android Auto's website.
The exception to the rule is Toyota, which continues to resist Android Auto — and Apple's rival software, CarPlay — due to safety and privacy concerns. As an alternative, the Japanese automaker gets its infotainment system from a small, California-based company named Telenav.
Finding a used car compatible with Android Auto can be a bit difficult because it took carmakers a while to let Google into the cabin. Hyundai, Kia, and Chevrolet were among the first companies to build Android Auto-compatible cars after the software became available in early 2015. Alternatively, aftermarket manufacturers such as Kenwood, Panasonic, Pioneer, and Sony offer Android Auto-compatible head units.