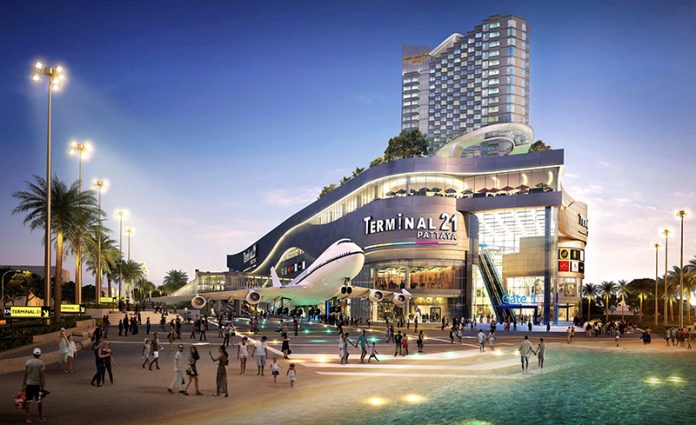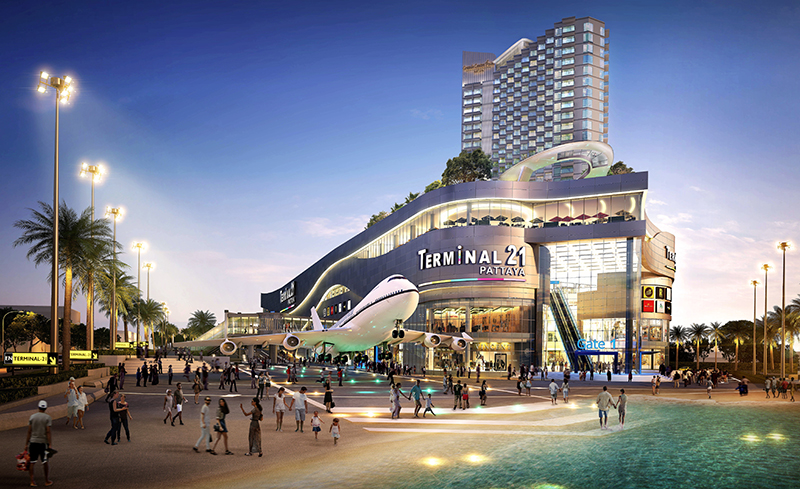 A huge new shopping mall is under construction in Pattaya and it is to be called Terminal21 Pattaya. If you lift an eyebrow to the name and remark that it sounds familiar then you would be right, as there is a Terminal21 shopping complex in Bangkok that is still relatively new. It was completed not that long ago in October 2011.
Bangkok's Terminal21 is a masterpiece of design. It is located very close to Asok Junction and is connected to the BTS Sky train by a walkway which links the station to two entrance doors on the second floor. It takes up the corner plot from Soi 19 to Asok Road and fronts the main Sukhumvit Road.
Next to Terminal21 in Bangkokis the Westin Grand hotel and the well-established Robinsons Mall. It covers 9 stories and has, as it centerpiece, a huge escalator than takes you from the main floor to the 3rd floor in one go. On the 4th and 5th floors are many eateries and they are not limited only to these areas. Coffee shops and variousother foodie outlets are still dotted around other floors where fashion shops are more prevalent.
Each floor in the shopping centre is themed based on different world cities and has models and artifacts from around the world. You can browse shops in San Francisco and cross the San Francisco bridge and the next minute you can be in Istanbul or London making a call in a traditional red British phone box.
In Pattaya a similar international theme to the shopping mall is likely to be adopted. The building will be 6 stories high, but it will have some distinct features of its own and won't be an exact replica of the Bangkok Terminal21.
Expect to see the trademark international theme. Some early artist impressions even show a full size jet aircraft sitting on the grounds outside, so who knows, maybe that will be part of the plan and will be an extra draw.
The location is on Pattaya North Road with the intersection of Pattaya Second Road. A large plot of land has been boarded up for some time and piling work has already been completed by the main contractor. The developer of the project is Land and Houses and the cost of the mall is expected to be around 7.5 billion baht.
Next to the new shopping mall will also be the 18 storey Grande Centre Point Pattaya with 396 luxury guest rooms. (The Bangkok Terminal21 property also features a 20-storey hotel and residence called the Grande Centre Point Terminal21).
Of course new super sized shopping malls don't come to Pattaya that often. Even though the city has seen its fair share of development including Central Festival Pattaya and Hilton Hotel, in the northern part of the city, save from additional hotels and restaurants, there has not been so much in terms of new retail development.
Central Marina in North Pattaya – originally the Big C Central Center before undergoing a major revamp – is a great place but with plenty of new hotels having been built around Soi 2 and Soi 4 there is probably now the need for a retail development of this size in the area.
The new Terminal21 Pattaya is already reaching for the sky and completion is expected to be in 2018. It is expected to provide a real boost to Pattaya's local economy and to provide a boost to the value of residential projects located in the immediate vicinity.