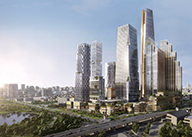 A new city-within-a city is to be built in Bangkok. Called "One Bangkok" the development will cover 16.7 hectares of land that is being leased from the Crown Property Bureau. The location is near to Lumphini Park and is ideally positioned to take advantage of easy access to Bangkok MRT and BTS Sky train lines.
The new district is being developed by TCC Group and Frasers Centrepoint Limited ("FCL") and is expected to be the largest ever development in Thailand with a value of 3.5 Billion USD or 119 Billion Baht. Frasers Property is the international property brand of FCL and has more than US$17 billion in assets.
Group CEO of FCL, Mr. Panote Sirivadhanabhakdi, was quoted as saying, "No single development of this scale and diversity has ever been undertaken in Thailand. One Bangkok will be a vibrant lifestyle destination that will affirm Bangkok's position among the most desirable cities in the world to live, do business, and to visit. It will attract top-level local and multinational companies to set up their AEC headquarters in the district as Bangkok's most prestigious corporate address, and their employees and visitors will enjoy an unrivaled ecosystem of facilities and lifestyle experiences available here."
The project will be overseen by way of a joint venture between the two companies concerned. Frasers Property Holdings (Thailand) Co., Ltd., will hold 19.9% and TCC Assets (Thailand) Co., Ltd., will hold the remaining 80.1%.
Chairman of TCC Group and FCL, Mr. Charoen Sirivadhanabhakdi, was quoted as saying, "The fundamental aim in the planning and design of One Bangkok is to enhance Bangkok's stature as a key gateway city in Asia."
This was an important message since Bangkok has taken the top spot in the league of most visited cities not only in Asia but also in the entire world, beating London, Paris, Tokyo and New York.
He was also quoted as saying "Our vision is to create a place that people can love and want to spend time in, which everyone in the city will feel is an integral part of our city. Once completed, it will be a global landmark that will enhance Bangkok's and Thailand's stature on the world stage."
One Bangkok will focus on smart-city living and environmental sustainability. The buildings will be constructed to LEED and WELL standards.
Mr. Charoen was further quoted as saying, "We are honoured to be entrusted by the Crown Property Bureau to turn this important plot of land in the heart of the city into a showpiece district. It is a responsibility that I am privileged to carry and I affirm my commitment to ensure the creation of something exceptional and transformational."
The project, once complete, will be huge. It will have 5 Luxury hotels, 3 Residential towers, 5 Grade A office towers, an array of retail and shopping outlets and open areas for sight seeing and cultural activities. It will have a total floor area of 1.83 million square metres,
Mr. Charoen was quoted as saying, "With One Bangkok, I hope to enhance global confidence in Thailand as the epicenter of ASEAN and a key gateway and lifestyle city in Asia, as well as bring prosperity to all associated with the project, whether as tenants, owners, or business partners. To accomplish this game-changing endeavour, I have placed my confidence in two TCC Group companies that perfectly complement each other, combining the financial strength and local know how of TCC Assets with the enormous international property development expertise of Frasers Property."
Half of the 16.7 hectares of land that makes up the site will be dedicated to green and open space.
Chief Executive Officer of One Bangkok, Ms. Su Lin Soon, and in her own right a highly experienced real estate professional was quoted as saying, "Accessibility, connectivity, and sustainability are top priorities in our urban planning. New quality standards, international best practices and diversity in the mix of uses and architecture are fundamental features of the master plan, designed by Skidmore, Owings & Merrill. Supported by local expertise from Plan Associates, and A49, the master plan combines both international and local experiences from the most influential architectural and urban planning firms."
The first part of the project will open in 2021 and the project is expected to be fully complete by 2025.