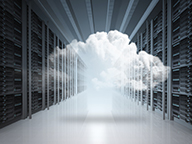 Bangkok is to be home to a new government Cloud based Data Centre that will bring together critical data and help to utilize all data more effectively.
The construction of the facility is expected to commence in the first quarter of next year, and will take approximately one year to complete.
The new cloud based data centre is part of a wider 5 year strategic plan by the government, passed at a public hearing in April 2017, to modernize data centres.
Currently there are some 300 existing data centres used by the military and as part of the plan, this number will be reduced to ensure a reduction in operating costs and to free up valuable floor space. Currently the data centres occupy 36,000 square metres. Some of the cost savings will be made by redundancies and closures of centres that will become superfluous under the new plan.
Mr. Pichet Durongkaveroj, Digital Economy and Society Minister was quoted as saying "We expect to have only 200 state data centres by 2022 and aim to cut operating costs from 10 billion baht to 700 million baht."
As for the new Cloud based data centre in Bangkok, the cost is yet to be determined. 20 State authorities will discuss all aspects of the plan and come to an agreement about the finer details of the project. The construction will be carried out by the Electronic Government Agency.
According to the EGA president, Sak Segkhoonthod, the action plan aims to take into account scalability, efficiency of operation, data security, and cost optimization. It will also take into account the future of the state service ecosystem.
The rollout comes on the heels of a massive expansion of mobile data that will need to be accommodated going in to the future. As mobile phones become ever more powerful they consume more and more data. In previous years there were limits on phone operating systems but with the regular updates of smartphone operating systems and the extra memory storage that new models have, data consumption is increasing rapidly. The data centre is a critical part of embracing a digital driven economy.
The Electronic Government Agency classifies state data into three distinct categories, namely national security data, important data and general data.
Currently, national security that is sensitive or classified data makes up eight per cent of the total data, important data makes up sixty percent of the total and the remaining 32 per cent is general data.
Sensitive and classified data is managed by the Electronic Government Agency in partnership with CAT Telecom and TOT Plc.