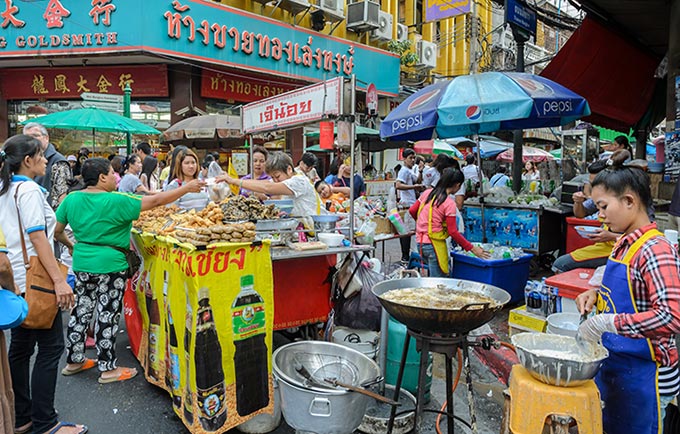 http://www.thailand4.com/.life/2017-04-25/64208c195bf1d7829a38cfb94d818076/
Travel and Lifestyle Press Releases Tuesday April 25, 2017 12:43
Bangkok–25 Apr–TAT Inter PR Division
The Tourism Authority of Thailand (TAT) would like to assure all international tourists and travellers that Bangkok remains a top destination for street food. This is in light of recent articles in the Thai and international press, stating that the Bangkok Metropolitan Administration (BMA) is to ban food stalls from Bangkok's main streets.
TAT has contacted the BMA and found that while there are measures in place to control food vendors and enforce current regulations, there is no outright ban on the sale of street food. In fact, the BMA appreciates that food vendors are a vital part of the city's identity and helped Bangkok be listed by CNN as one of the 23 best cities in the world for street food.
BMA has said that it will be providing support and advice to the city's street food vendors to help them raise hygienic standards, improve food safety, and adhere to proper waste management procedures.
To ensure the safety and convenience of all road users and pedestrians, BMA is enforcing measures regarding sidewalk and road obstructions and is working with the Metropolitan Police Bureau and its Traffic Division, to see that vital walkways are clear of the food carts, chairs and umbrellas used by many street food vendors in the city.
This means that in Bangkok's busiest areas, vendors have been required to move to designated zones and nearby markets to operate.
Popular tourist streets; such as, Chinatown's Yaowarat and Khao San Roads, will not be affected. But these areas will receive special attention to ensure international hygienic standards are met by the vendors.
To this end and pending government approval, the BMA intends to implement the following measures:
To introduce universal hygienic standard practices for food preparation and service, and strictly enforce these measures.To ensure personnel attend BMA training programmes on food safety and pass tests before they are licenced.BMA will enforce measures regarding waste management and the cleaning of bowls and utensils used by customers.
Invalid Domain Name