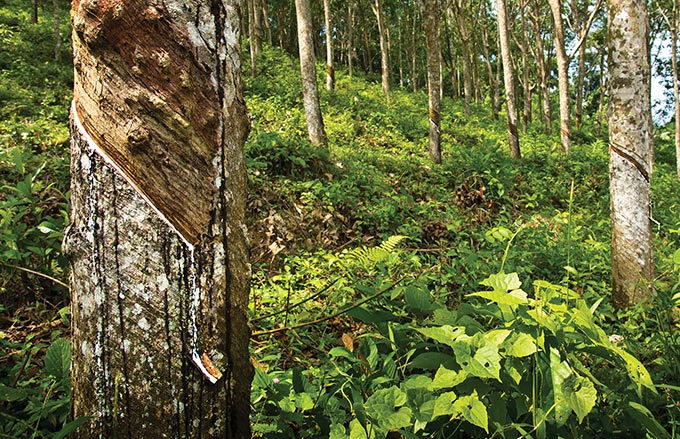 Asia Pacific Rubber Producers meet to stabilize rubber prices
Relevant bodies in Malaysia, Indonesia and Thailand recently met to discuss future cooperation in order to try to stabilize world rubber prices.
The three nations make up approximately 70 per cent of the world's total production, yet rubber prices still fluctuate quite a lot even though they have recovered off of multi year lows set in previous years.
The expectation is that rubber prices will rise in the short term driven by heavy rainfall in the south of Thailand which will lead to lower supplies.
It was also noted that India, Malaysia and Indonesia have all put in place efforts to reduce rubber plantation sizes in order to reduce supply.
At the meeting there was agreement to spur domestic demand so that export stocks can be reduced. This will further underpin export prices and may lead to some stability in the market.
Another meeting is planned for July and if rubber prices continue to be volatile then there is a possibility of export controls being introduced to help smooth out market prices.
New Era of Improved and Secured Internet Connection for Cambodia
Telcotech, a subsidiary of EZECOM, and partners – Malaysia Telekom, Malaysia Berhad and Symphony Communication of Thailand – celebrated the momentous launch of the Malaysia-Cambodia-Thailand (MCT) Submarine Cable System and Landing Station in Cambodia. Huawei Marine, a global submarine network solution provider, was contracted to design and deploy the system.
The historical event marks the beginning of a new era of improved and secured internet connection for Cambodia and surrounding countries. It was attended by Samdech Krolahom Sar Kheng, Deputy Prime Minister and Minister of Interior of the Kingdom of Cambodia; Akka Moha Sena Padei Techo Hun Sen, the Prime Minister of the Kingdom of Cambodia; H.E. TRAM Iv Tek, the Minister of Post and Telecommunications, as well as numerous other local and international VIPs.
The system makes use of landing stations, of which Cambodia's landing station called 'Mittapheap Landing Station' is located at Otres Beach in Sihanoukville, while Malaysia's is in Kuantan [Cherating], and at Rayong for Thailand. Analysts have predicted that the MCT submarine cable will generate a positive impact on the telecommunication industry in Cambodia and bring about more investment flow to the country as well.
Jakarta election won by former education minister
After a largely divisive campaign period, a former Indonesian education minister, Anies Baswedan, has won the race for the Jakarta governor.
According to pollster Indikator Politik, and confirmed by other pollsters, the results showed that Anies Baswedan won with 58 percent of the votes as compared to the 42 percent achieved by Basuki Tjahaja Purnama, also known by his Chinese nickname, "Ahok".
The margin was large enough to ensure that the victory was not opposed, even though prior to the election, polls suggested that any victory would be a close call.
The prior campaign period saw mass rallies and many speeches by all participants. The outcome has been likened to the U.S. election outcome, a shock for many who felt that such a margin of victory would not occur.
Security was relatively light at polling stations and the entire process was generally peaceful.