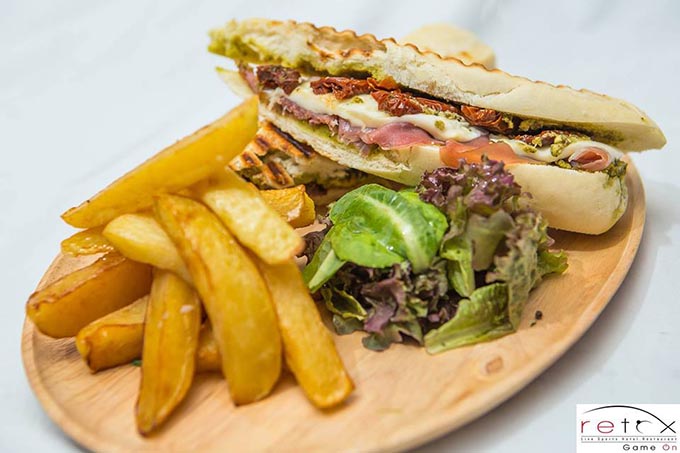 The Retox Game On sports bar, restaurant and hotel is this month celebrating its first anniversary, having opened for business this time last year.
Located in Soi Honey, close to Second Road, Retox Game On is acknowledged as easily the biggest venue of its kind in terms of area and seating capacity in Pattaya, and regarded by many as Pattaya's No. 1 Sports bar.
Several months after opening Retox Game On made an extended section which added a further 50 seats to Retox Game On's overall capacity, and was  designed so that it could accommodate private parties when required.
Management at Retox Game On say that they can cater for anything up to 350 customers at any one time. There are an amazing 45 TV screens, all 50-inch models, around the venue as well as a 150-inch projector screen and a video wall and a 90-inch TV. All of these are tuned in to live sports from around the world with the aim of trying to create a 'feel like you are there' atmosphere within the bar.
The acoustics are just right as well, so that different live sporting events can be broadcast in separate areas of the pub with the commentary from one not intruding on the commentary from another.
All sports are shown live, everything from the Premier League, NFL, NRL, F1 – and all things sport every day!
As the management of Retox Game On have said, 'if we can't show it, no one can'. The management have made it a firm policy to show more sport than anyone else in Pattaya.
There are also four private booths with their own TV sets which can be tuned to any event available at the time and can be reserved for any event.
The pub and restaurant is open 24 hours a day and has smoking as well as non-smoking areas. There is an international standard pool table, free for customers to play on, as well as two dart boards. They also have both pool and darts teams.
For the golfing enthusiasts Retox Game On organise golf outings five days a week. They can also organise the hiring of golf clubs if needed.
Apart from sports, Retox Game On has a fine reputation as one of the leading pub restaurants in Pattaya, with an extensive menu which features all the dishes one would expect to find, from traditional English breakfasts to eggs benedict, paninis, burgers, home-made meat pies, cottage pie, stews, fish and chips, lasagne, steaks made with Australian beef, a traditional Sunday roast and, of course, Thai food.
There are daily specials from 179 baht – and some great British classics!
For those who enjoy a pint there is an extensive selection of draught beers, including Guinness, Heineken, Tiger, Magners, Paulaner, British Ales and Peroni just to name a few. And there's a Happy Hour every day from 12.00 – 6.00 p.m.
Retox Game On also provide a great selection of Daily U.K. and Australian newspapers for their customers to read.
There are also 14 rooms for rent, from just 600 baht a night, with great monthly deals on request.
For further information just visit their website: www.retoxgameon.com