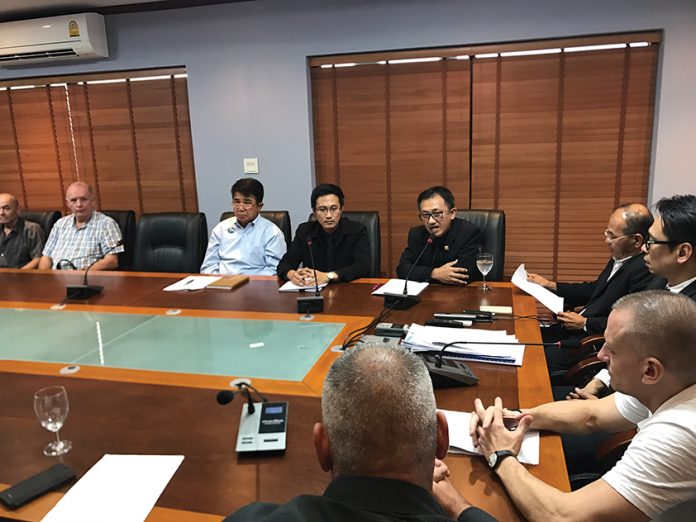 The Magna Carta Law firm has recently released a statement and letter regarding the Waterfront Project. The Litigation team consists of Mr. Noppadol Paiviroj, Barrister, Head of Legal Division at Magna Carta Law Firm, Mr. Chertchai Arunothaivisarut, Barrister, Committee of Pattaya Lawyers Council and Mr. Pira Suthirangkul, Barrister who has related experience in property valuation, consumer protection cases and negotiation. Their team also includes 4 more Thai, English and Russian speaking lawyers, all having experience in related fields of civil law.
Magna Carta Law released a letter as follows:
"Magna Carta Co., Ltd.
Rehabilitation of Bali Hai Co., Ltd. (Waterfront Project)
Bali Hai Co., Ltd.,the developer of the "Waterfront" project,has submitted a request for rehabilitation (re-organization) to the Central Bankruptcy Court in Bangkok on January 16th, 2017. The court has accepted this request and made the appointment for the hearing on April 24th, 2017 – Pending Case No. ฟ. 3/2560 (for.3/2560).
After the court accepted the filing of the aforementioned request, it is disabling buyers of the "Waterfront" project to file any civil cases, and if there were any such lawsuits filed already, the court can stop the proceeding of such cases (Automatic Stay).
Meanwhile the buyers must submit their petitions to the Central Bankruptcy Court in Bangkok to declare his / her creditor status, as well as a petition to request the debt payment, in order to retain their rights to vote on the rehabilitation plan, as well as to receive the debt back from the developer, whether in funds or in kind.
Failing to submit the aforementioned petition will cause the buyer to be unable to vote on the rehabilitation plan and to forfeit his / her chances to receive any debts back from the debtor.
Moreover, in case of the failure of the rehabilitation plan, and that the Bankruptcy action has been instituted against the debtor, the Central Bankruptcy Court shall have the authority to resume the proceeding, and may pass an order for the debtor to be bankrupted, which will result in severe damages to all creditors, especially for the buyers of the project.
Therefore, it is necessary for all the buyers to unify and to collectively consolidate their votes on the rehabilitation plan, to present their amendments and objections to the plan in order to facilitate the success of such a rehabilitation plan, resulting in receiving back the debts, whether in form of ownership of the purchased units or a refund, according to the rehabilitation plan.
Magna Carta Law Firm has assembled a distinguished team to collectively represent affected buyers and creditors in this particular rehabilitation case, consisting of Thai and English speaking lawyers and advisors, who are experienced in bankruptcy and rehabilitation cases, in restructuring debt and legal execution cases in particular, as well as in property evaluation and consumer protection rights.
Magna Carta Law Firm not only provides representation at the court and legal consultations in this particular case, but we will also check & analyze the feasibility of the rehabilitation plan, and conduct its follow-up, so the buyers of "Waterfront" project may receive back the debt."