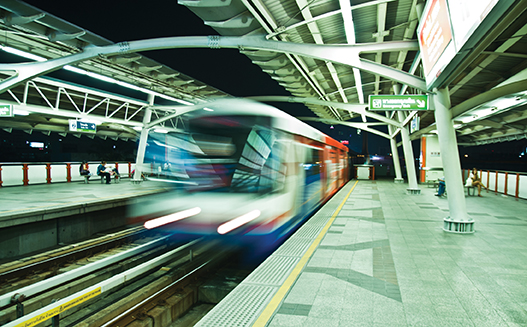 A new combination transport card that can be used on the capital's buses and trains is to start rolling out in June 2017. It will be called the Spider card and is expected to become a solution of choice for tourists and commuters alike.
Currently anyone using multiple transport options has to buy tickets for each part of their journey on each of the respective transport routes. The spider card will make it more convenient for people travelling on several forms of transport.
The Spider card is expected to be similar to the Oyster card that is currently operating in London in the UK, and which is accepted on train, tube and bus services throughout the capital. It has become so popular that there is even the possibility that the single journey tickets may eventually get phased out. Indeed on some buses in London, cash is no longer accepted and Oyster cards are becoming the most preferred option.
In Bangkok the Spider card will be available on 100 buses initially in Bangkok out of the fleet of 2600 vehicles. The BTS sky train will also start accepting the card in June.
The deputy permanent secretary for transport, Mr. Peraphon Thawornsupacharoen was quoted as saying, "Initially the BMTA is likely to adopt the ticketing system first, followed by the BTS. The Airport Rail Link will be next followed by the Purple Line and the Blue Line subway services. They all have their own ticketing systems with varying degrees of complexity. Non-transport operators such as convenience stores are also expected to join in so that the Spider card can also be used to make purchases."
Currently some stores such 7-11 have a simple debit card offering that can be loaded with a certain amount of credit and then used to make purchases in store instead of using cash. The cards can be topped up by any amount at any time the owner wishes to do so. The Spider card is likely to be used side by side these existing offerings, but may replace them over the course of time if it proves to be successful and is used as a preferred payment method by customers.
As for the hardware to be put in place, the system will use state of the art electronic readers and this is to be put in place on all the buses and train services under a five-year contract worth some 1.8 Billion baht. Bidding for the installation is due to commence soon, and will be overseen by the BMTA who operates all of the city buses.
Although there are unlikely to be any savings for card holders in terms of cut price fares, the Spider Card will make it much more convenient to travel in the capital.