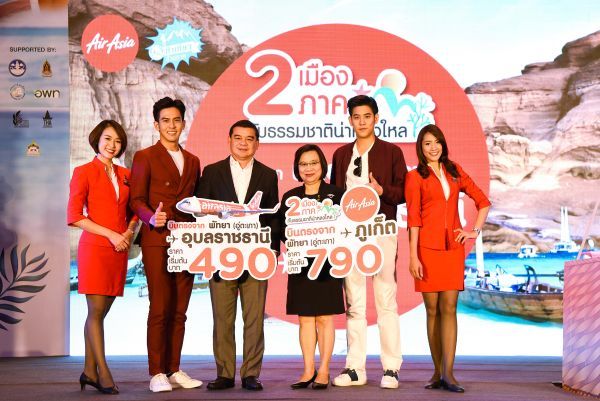 Thai AirAsia commences 2 new domestic interregional connections in support of Tourism Authority of Thailand (TAT) policy which aims at stimulating cross-regional travel. The airline introduces the new routes at promotional fares. Book at www.airasia.com and all ticketing channels for travel from both routes' inauguration date on 30 March 2017 until 6 February 2018.
Mr. Santisuk Klongchaiya, Director of Commercial for Thai AirAsia, said that regional connections in Thailand are a strength of Thai AirAsia's ever expanding network and part of its policy to create new travel opportunities for all the country's regions. AirAsia currently operates the most regional connections among its peers with flights out of its 6 airport hubs of Bangkok (Don Mueang), Phuket, Chiang Mai, Krabi, U-Tapao and Hat Yai. Together the hubs offer 11 regional connections available via 16 flights daily, and averaged a load factor of 85 percent in 2016.
"Today we add 2 new interregional connections with daily direct flights from U-Tapao to Phuket and Ubon Ratchathani, destinations that each have their own unique allure. Both the additions will begin service on 30 March 2017 and are being introduced with promotional fares that can't be missed. Book them at www.airasia.com or at AirAsia's booth at Thailand International Travel Fair 2017 number ZC60-69 in the Plaza Zone of Queen Sirikit National Convention Center".
Mrs Sujitra Jongchansittho, Deputy Governor of Domestic Marketing for the Tourism Authority of Thailand, said that the government has policy to elevate the country's economy under the "Thailand 4.0, Economy 4.0" concept. In satisfaction of this policy, TAT drafted its own "Tourism 4.0" framework, which seeks to strengthen the country internally before connecting it to the global economy. The plan focuses on basic tourism, constant innovation and the "Regional Travel Challenge" project, an effort to stimulate regional tourism by creating new and stimulating experiences based on local offerings. The goal of the framework is to spread travel income across the country and TAT welcomes AirAsia's support in enhancing travel between regions.
On the day of the press launch (15 February 2017) for the 2 new connections, TAT and Thai AirAsia joined in the "Regional Travel Challenge" by having 2 celebrities who are native to 2 different regions; Saran "Porsche" Sirirat of Chantaburi (U-Tapao Airport in the eastern region) and Pongsakorn "Toey" Metharikanont of Amnat Charoen (Ubon Ratchathani Airport in the northeastern region), experiencing the challenge. The two are to set off on a journey to new regions together throughout this April 2017.
Flight Schedule U-Tapao (UTP) – Ubon Ratchathani (UBP) Starting 30 March 2017
Flight   From   To   Depart       Arrive       Frequency
FD 1140   UTP   UBP   14:40 hrs.   15:50 hrs.   Daily
FD 1141   UBP   UTP   16:35 hrs.   17:45 hrs.   Daily
Flight Schedule U-Tapao (UTP) – Phuket (HKT) Starting 30 March 2017
Flight   From   To   Depart       Arrive       Frequency
FD 1100   UTP   HKT   10:55 hrs.   12:15 hrs.   Daily
FD 1101   HKT   UTP   12:50 hrs.   14:10 hrs.   Daily
*Ticket prices for one way, inclusive of airport tax and other duties but excludes fuel excise tax. Seating is limited and subject to terms and conditions.