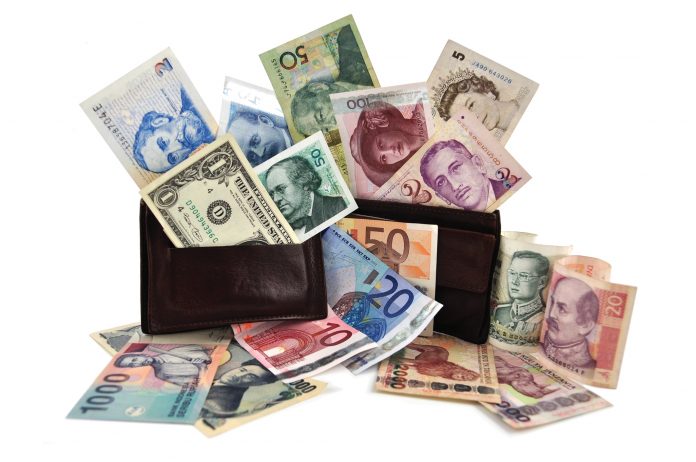 The US Dollar vs. the Thai Baht exchange rate has been remarkably stable when considering both oversees and local events. Following Trump's election victory the Baht weakened slightly from 35 to the US Dollar to 36, a fall of just under 3%. Much of this move has been reversed in recent weeks with the US Dollar fetching 35.4 baht. Worth watching is the Dollar index (DXY), which measures the US Dollar's overall strength against a basket of currencies. It has moved to multi-year highs, hitting 104 before retreating to 101. To give this some context the Dollar index has previously remained at below 95 for most of the last 2 years and below 85 for the 3 years prior to that.
The British pound has remained at the low end of the recent range fetching just 43 to 44 Thai Baht. It can't seem to shake off the Brexit woes and looks set to possibly depreciate further against all major currencies. If it drops through the 42 Thai Baht mark, it could well head lower as Brexit plans, or a lack of them, emerge. Support is currently at 1.18 to the USD, which would equate to around 41.5 Thai Baht, but a dip even lower cannot be ruled out.
The Japanese Yen weakened against the US dollar substantially following Trump's election victory, moving from 102 to 118.65. Subsequent movements have respected the aforementioned 118.65 level as a temporary top and the pair has traded lower to 113 and 114 as part of an expected correction. Against the Thai Baht, the same movements have been mirrored with the Yen dropping from 0.35 down to 0.30 to the Thai Baht and recovering slightly to 0.315.
The prospect of America having warmer ties with Russia has meant that the Russian Rouble has benefited of late. Even against a strengthening US Dollar the Rouble appreciated from 60 to 54 and against the Thai Baht it has moved from 0.53 to 0.59. This would need to be considered against previous rates barely two years ago, before the rouble crash, when it was trading at 33 to the US dollar and 1 Rouble would fetch 1 Thai Baht. However, the recent move is a significant improvement.
The Euro has also seen some weakness against the Greenback since the US election, but has remained less volatile and has put on arguably a slightly stronger recovery than some other currencies. Prior to the election the European unit was trading at 1.11 to the USD and fell to 1.03 before bouncing back recently to the 1.06 mark. Against the Thai Baht the moves have been slightly more muted since the Thai baht has also weakened somewhat. The Euro moved from 39 Thai Baht towards 37, before recovering to 37.6