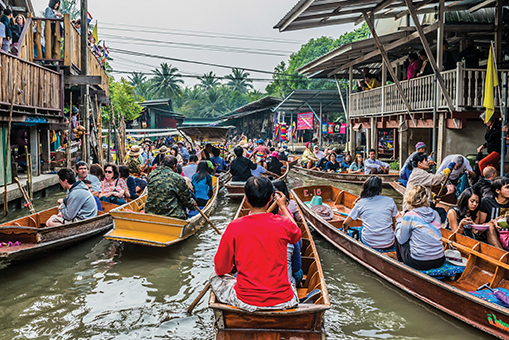 According to Vithan Charoenphon, the head of service cluster at the Siam Commercial Bank's Economic Intelligence Center (SCB EIC), Thailand saw some 33.8 million foreign tourists during 2016.
This equated to a growth of around 10 percent from the previous year and was thanks to a sharp rise in Chinese tourists, who represented about 30 percent of total arrivals.
Based on these figures and other trends and analysis, the SCB believes tourism will grow a further 11 percent across 2017.
Mr Vithan was quoted as saying, "Thailand has high potential to draw more Chinese tourists to visit despite the impact of the recent zero-dollar tour crackdown."
He noted that Chinese tourists coming to Thailand represented only nine percent of the 100 million Chinese people who make overseas trips annually.
According to the MasterCard Global Destination Cities Index 2016, Bangkok was the world's most-visited city last year, owing to cheaper living costs and the availability of facilities for travel and entertainment. Without doubt part of the attraction in Bangkok is the improved infrastructure witnessed over the past 15 years with the start of the BTS and its subsequent expansion as well as the opening of the MRT.
Tourism has once again become a major driver of economic growth, with international tourist arrivals growing at an average of 10 percent annually in the past three years.
"We should also focus more on building sustainable growth in the long term to stay competitive," Mr Vithan stated.
Medical tourism has also become a major sub-factor and it attracts visitors from countries where healthcare expenses are very high such as Australia, Germany and France, or some countries with low quality healthcare such as Myanmar. Even nationals from Malaysia, where healthcare is not necessarily sub-standard or expensive, can often be found at some of the higher-end hospitals in Bangkok.
Countries with massive populations such as India and Indonesia are showing a very strong potential to become significant tourist markets, with the rise of middle-income groups.
Mr Vithan said, "The government should support the development of new tourist attractions such as theme parks, water parks and museums as well as organising international sports events."
He suggests the government and private sectors should jointly put serious efforts to developing human resources, maintaining tourism sites and public assets as well as investing in well-connected transport infrastructure.
One area of concern, according to SCB EIC, is that tourism personnel are in need of training about business ethics, technology, creativity and innovation as well as improving their language skills and service quality. These factors can make a big difference in whether tourists return a second time to Thailand.