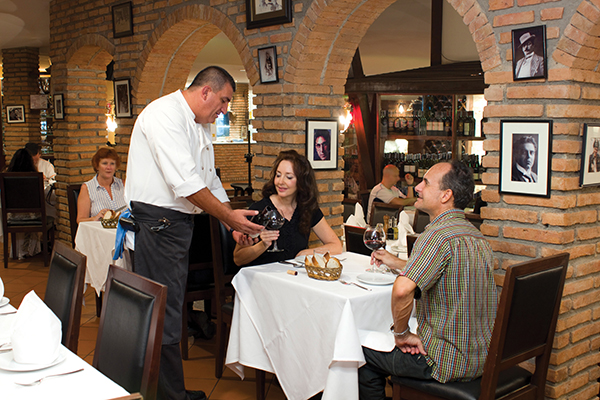 This publication has been covering the Italian-style Toscana and associated Moom Talay Thai restaurant in some depth over a number of recent issues, primarily because this duo are nothing like the average eatery.
We mentioned in the last issue that we would be dedicating some in-depth material in this issue to Toscana's incredibly wide range of wines available to customers and all designed to complement the equally wide array of Italian dishes served inside Toscana.
As the name suggests, Toscana features cuisine which is almost uniquely derived from the Tuscany region of northern Italy. In keeping with this theme, it's probably no surprise that although Toscana stocks from all over the Italian peninsula, the majority are sourced from Tuscany.
All told, there are 60 red wines and 31 white wines from which to choose. There are also nine choices of prosecco (otherwise known as sparkling wine). As mine host Luca says, prosecco is a kind of Italian champagne, but made from different grapes than what most people know as champagne.
Three choices of lambrusco (also referred to as sparkling red), either dry or sweet, and four Rose wines add further depth to the Toscana wine list.
If customers are not in the mood to make specific choices, then there are three house whites and three house reds available, all of them are IGT (that is, certified from the region they come from).
Toscana's house wines are served by the glass (180 baht) or in quarter-litre, half-litre or one-litre (1,350 baht) carafes.
Luca imported a machine made in Italy which keeps wine fresh for up to three weeks after a bottle has been opened. This machine operates under a controlled temperature to ensure the wine tastes as good as when it was first opened.
Luca long ago realized that some customers may order only a single glass of wine with their dinner, but would enjoy ordering from a specific bottle rather than indulge in the house wine. Of course, opening an entire bottle and simply serving one glass was uneconomical, but Luca decided to offer eight bottled reds and five bottled whites from which customers may choose. Yes, they may only have one or two glasses, but by utilising the special machine, Luca noted he could keep the opened choices fresh and would be able to still serve other discerning customers from these already-opened bottles, but without the loss of the original flavour and body.
The cost is anywhere from 360 to 720 baht per glass, depending on which wine is selected.
The comprehensive variety of wines in Toscana can be gauged by the incredible difference in value: from as little as 1,300 baht for a bottle up to 20,000 baht a bottle for the finest wine in the house.
All the wines are stocked in the Wine Cellar located inside the Toscana fine dining section of the restaurant in a specially-built temperature-controlled cellar. As Luca notes, this ensures the wine is consistently good. In many places wine is stored on shelves in the restaurant, which means when the restaurant is closed the air-con is off the bottles of wine experience regular changes in temperature.
In Toscana the customer can order from the wine menu when they're selecting their food or go into the cellar and pick their choice of wine from the impressive selection there.
Toscana also has 27 different types of grappa drinks, all offering a different kind of grape from each region of Italy, thereby giving each a distinctive smell and taste.
For the beer drinker, Toscana has wide selection of these including real Italian Peroni, available on draught and in bottles.
On occasions, Toscana puts on a Wine Promotion, usually with selected reds. In January, there are two red wines being promoted and Luca has selected six main dishes aimed at complementing these wines. If a customer opts for one of the wines then they can select one main dish for the same price. If there are a few people at the table they might want to order the both wines and select two of the main dishes from the special selection.
Trattoria Pizzeria TOSCANA Restaurant and the Moom Talay Thai Restaurant are located on Beach Road, Pattaya (between Soi 6 and Soi 7). Telephone: 038 362370; Fax: 038 362371; email: [email protected].
For reservations: Phone 081 861 3446.