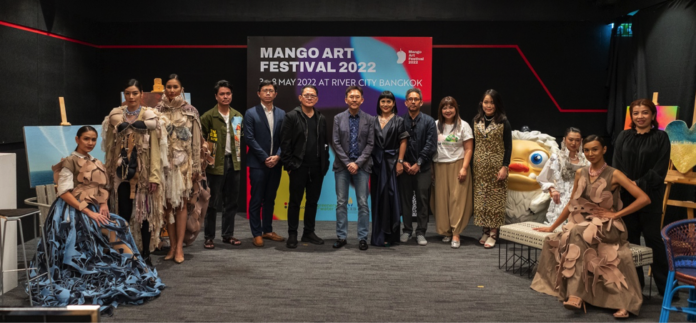 https://www.thailand4.com/en/LZ1h
Returning to reinvigorate the Thai art scene, the Mango Art Festival will gather a variety of art disciplines to bring happiness to all art lovers and elevate the country's creativity.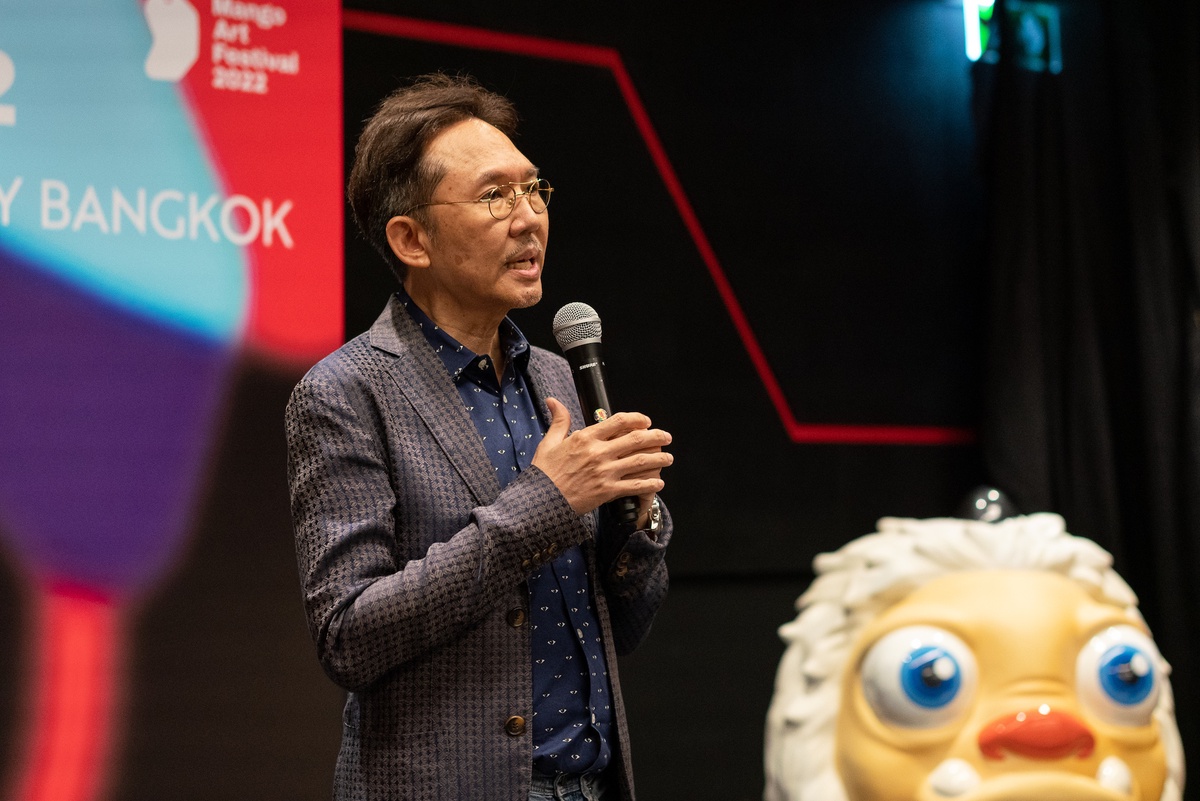 To be held from 3 to 8 May 2022 at River City Bangkok, the Mango Art Festival 2022 will be a space for freedom and self-expression that unlocks humans' limitless potential. With the theme of "A Vision for A Better Tomorrow", the festival aims to use art to lead us all through these challenging times of a global pandemic and climate change to arrive at a brighter future. Visitors will also experience new aesthetics that have resulted from technological advancement within the festival.
At the festival's press conference on 16 March 2022, Sermkhun Kunawong, President of Mango Art Festival, remarked that the Mango Art Festival 2022 would be one of the most interesting events this year, recognizing that "the new generation is interested not only in the money matter but also in aesthetic. So, this event matches the new lifestyle."
"The theme of this year's festival is 'A Vision for A Better Tomorrow.' This future has to do with what we give value to, like equality and freedom, the right to live the way we want. In this sense, art can be a driving force that brings something better to society, for today and tomorrow."
The festival will consist of four main zones at River City Bangkok, a shopping center that is well known for art and its success in having hosted several internationally acclaimed exhibitions. These zones are 1) Galleries, 2) Independent Artists, 3) Product Designs, and 4) Craft Accessories and Food & Beverage. Beyond these exhibition zones, other interesting activities include talks, performances, special exhibitions, and music. The festival will feature 66 booths with more than a thousand artworks by Thai and international artists, including those from private collections, works by old masters and contemporary artists as well as NFTs.
According to Sermkhun, the talks will revolve around today's topics such as "art trends and the soaring prices in the art market. Another unique topic we'll get to discuss is business matching, how to match artists with galleries. So, we'll see international galleries coming here to take Thai artists to the international art market and international artists being represented by Thai galleries."
Sermkhun added that "in times of war like this, we may look regionally, not globally. We'll see more connections within a region, with foreign collectors in the region buying Thai art and Thai collectors buying works within the region. The Mango Art Festival is proud to be part of this movement that uplifts the creative economy.
As an art lover, Suchai Pornsirikul, Co-founder of the Mango Art Festival, said he expected to see the Thai art community come together for this festival. "I want Thai artists to see real artworks. Chavalit Soemprungsuk (a National Artist of Thailand for visual arts), whose trust I oversee, once told me that if we get to see a lot of great and original art, we can create unique artwork of our own." At the Mango Art Festival, there will be a lot of art pieces to see.
"The Mango Art Festival is the most comprehensive festival in Thailand," Phathaiwat Changtrakul, the festival's Artistic Director, said confidently. "This event will take the Thai art scene to another level, opening a new platform for people to connect with each other. The Thai art scene has been very active in the past few years. We have seen many shopping malls and leading brands working with artists. This trend will be even clearer this year if we continue to support artists and encourage people to go see art." Without a doubt, this festival will rival all the major art events in Southeast Asia.
Suphita Charoenwattanamongkhol, Fair Manager, stressed the festival's goal of supporting Thai artists, saying, "Countries with high-quality society have art festivals. If we work together, anything is possible. Today, artists have found more success and can sell their works at higher prices, and collectors buy art with pride. This festival is challenging on many levels. It's a gathering of people who are passionate about art and design and everything in between, but I believe that through collaboration, "a vision for a better tomorrow" is attainable."
Following its success last year, the second edition of the Mango Art Festival has been both exciting and challenging for the organizer. On selecting design products to be included in the festival, Lalida Leelayoova, Design Director, said, "My intention is that every piece from every brand must fit the festival's concept. I want the viewers to see the advancement in terms of technique and craftmanship from the designs that I selected"
As for the press conference, Ek Thongprasert and Wishulada Panthanuvong put on a performance in the form of a fashion show with the concept of "From Trash to Art Pieces". The pair turned used bras from the Wacoal Bra Day Project into a special collection featuring 5 looks, inspired by the industry to reduce waste from its production and moving toward an environment that is more sustainable.
Don't miss the Mango Art Festival 2022 at River City Bangkok, located at the heart of Charoenkrung Road, which is a cultural landmark of Bangkok. This will be the most well-rounded and exciting art festival in all of Thailand, aiming to inspire as well as stimulate the Thai economy by turning the country into a travel destination for art and design lovers from around the world.
For more information:
Website: www.mangoartfestival.com
Facebook: Mango Art Festival
Instagram: Mangoartfestival
Twitter: MangoArtFest
Line Official: @mangoartfestival
Email: [email protected]
Source: fyi bangkok