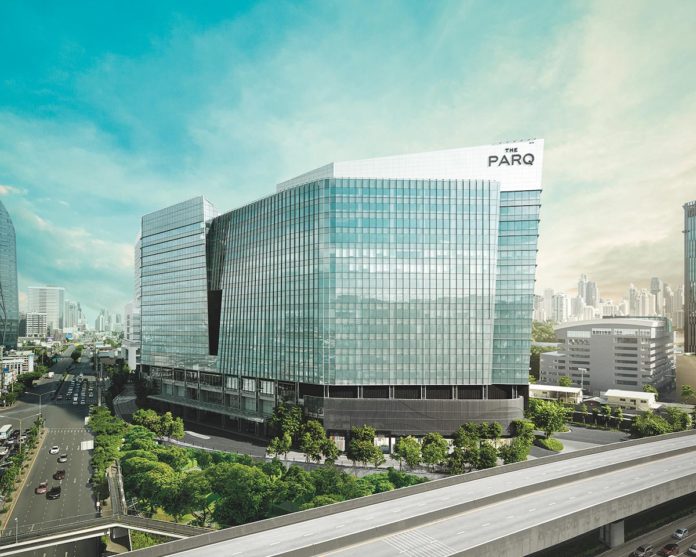 Real Estate Press Releases Thursday August 20, 2020 15:37
Bangkok–20 Aug–Hill+Knowlton Strategies
As Thailand transitions to a New Normal, many businesses are rethinking their processes and philosophies to adjust to the country's inevitable lifestyle changes.
This is no different for the property sector, where the integration of innovation and design is seeing the adoption of touchless technologies with a hygienic focus, including QR code payments; automated card exchange machines, and deep cleaning measures – to create a convenient and safe journey for both tenants and visitors.
Driving this change in Thailand is The PARQ, designed for a Life Well Balanced, and whose foresight, obsession with human needs, environmentally friendly amenities, and smart office spaces have combined into the construction of a cutting-edge building where quality, safety, and the perfect balance between work and life can be found.
"We developed The PARQ to redefine the meaning of "quality" through the ethos of Life Well Balanced. Its sustainable design and programs are focused on providing a better quality of life for our office workers and visitors, while caring for the needs of the environment," said Ms. Su Lin Soon, CEO – Development, Frasers Property Holdings Thailand.
The mixed-use project developed by TCC Assets (Thailand) Co., Ltd, with Frasers Property Holdings (Thailand) Co., Ltd. as its development manager, comprises The PARQ Workplace – Grade A commercial offices offering 60,000sqm of column-free office space with the largest floorplate up to 5,200sqm on each floor and expansive three-metre high ceilings to support tenants' needs – and The PARQ Life, curated  retail space with healthy dining options, socially-conscious retailers, as well as world-class fitness and wellness amenities.
It is also the first mixed-use development in Thailand to receive Pre-WELL Certification and aims to be Thailand's first mixed-use development to receive both WELL and LEED Gold v4 certification, the latest standards for sustainable and green building.
Bangkok's Premier Sustainable Experience
To underline The PARQ's commitment to sustainable design during construction, the building features triple-layered glass windows, allowing only 75% of natural light to penetrate through the building to avoid glare for tenants, while also simultaneously removing 25% of heat within to reduce energy usage. The PARQ's LED panel lighting system further provides more than 50% energy saving when compared to standard lighting systems.
Incorporating the ultimate hygiene and cleaning processes, The PARQ introduces Thailand to the sector-leading germicide UVC robot and installation of UVC Emitters in its air-cooling system. The intense UVC lamps help eliminate bacteria, fungus and reduce the spread of airborne germs. The PARQ has always been committed to improving Bangkok's perpetual air quality issue, including PM2.5 and PM10, and will provide 30% better air quality than international standards through its premium air control system for effective air ventilation.
The PARQ is being developed by TCC Assets with Frasers Property Holdings (Thailand) Co., Ltd. as the project's development manager.
For more information on The PARQ, please visit www.theparq.com