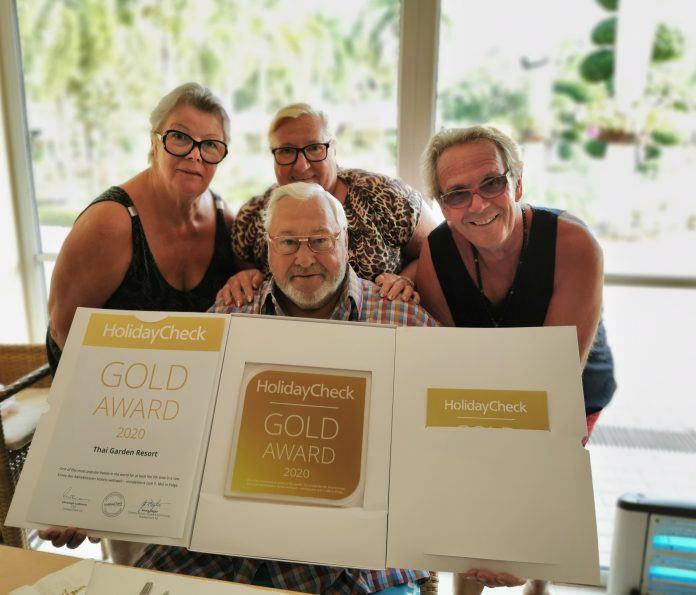 THAI GARDEN RESORT VOTED TOP HOTEL 2020 BY HOLIDAYCHECK
The New Year has just started but the Thai Garden Resort already bagged their first award for 2020.
The famous hotel rating website in Germany called "HolidayCheck" is an internet portal where guests can rate the hotel where they stayed during their vacation.
"Don't book a hotel until you have checked the comments and ratings of previous guests!"
And that is exactly what the modern traveler does in order to avoid any disappointments.
General Manager René Pisters is delighted to receive this reward for the 9th consecutive year, on behalf of the hotel and he emphasizes that the reward is a reflection of the dedication of all the Team Members of the resort and therefore he conveys his special thanks to all who have made it possible for the resort to receive this award again. He would also like to express his deep appreciation to all the guests for submitting their reviews and he looks forward to welcome all guests back again at the Thai Garden Resort.
The Team at the Thai Garden Resort wish to send this message of thanks to all their guests – We would like to thank all of our guests, for supporting us to get the HolidayCheck Gold Award. Without your continuous support, we could never get this award for the ninth consecutive year. We already working on next year Gold Award, so don't forget to leave your review on https://www.holidaycheck.de/hi/thai-garden-resort/758c1291-2446-3328-9485-f7666888755b