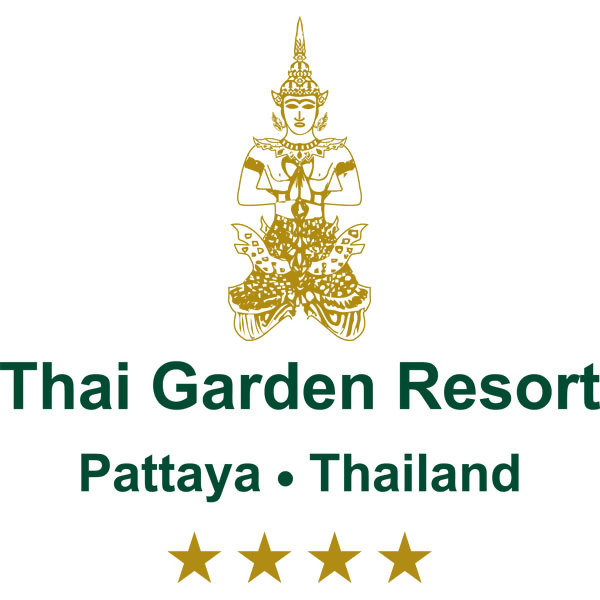 Tropical gardens, a huge 63 meter lagoon swimming pool, and gracious friendly staff are just a few of the delights that you will find at the Thai Garden Resort.
Located in a prime position along Pattaya North Road, it is easy to find as it is almost directly opposite the new Terminal 21 shopping mall. It is also very easy to reach from the Bangkok-Pattaya motorway, allowing you to avoid Pattaya's traffic and reach the hotel quickly and effortlessly.
The immediate vicinity has many other attractions including the Central Marina shopping complex, Art in Paradise, Tiffany show and an array of local shops and restaurants, all within walking distance.
Once in the resort, guests are greeted by friendly staff in a traditional Thai-style, spacious, open-air lobby adorned with orchid arrangements and original applique murals created by artisans from Chiang Mai.
Classical Thai statues are tastefully displayed throughout the entire resort, as are exotic flora, including carefully tended Koi trees and foxtail palms.
The Thai Garden Resort spans some 25,000 square meters and comprises 227 rooms and apartments, all of which are in low-rise buildings to make the most of the tropical surrounds.
The hotel offers various comfortable room types, including spacious 35 square meter standard, superior and deluxe pool view rooms, as well as deluxe garden view rooms. Try out the 49 square metre deluxe apartments that have a suite layout and feature a separate living and bedroom.
The hotel is very conscious of catering to disabled guests and so all areas of the hotel are wheelchair friendly. An additional room type for disable patrons is also offered, which includes a drive in shower and a separate living room and bedroom.
All rooms offer free high-speed Wi-Fi, 70 television channels on a flat screen TV, a safety box that is large enough to fit your laptop into and a refrigerator with complimentary water. Both rain style and hand held showerheads feature in the bathrooms as well as a hair dryer.
The hotel is environmentally friendly, reducing its packaging footprint and using solar panels to heat the water.
The 63 meters long swimming pool is the heart of the hotel and it features a Jacuzzi area, stimulating water features, aqua beds and even foot massage and a separate children's pool as well.
Plenty of sunbeds surround the pool area each with a service button connected directly to the poolside bar to call the service staff instantly.
The Thai Garden Resort has an elegant restaurant overlooking the tropical gardens and the lagoon swimming pool with in- and outdoor seating. Here, you can enjoy their rich buffet breakfast each morning from 06:00 AM till 11:00 AM specially for those who like to wake up late.
Nightly from 6.00 p.m. to 9.00 pm every evening, an all-you-can-eat buffet is offered with varying themes and cuisines such as Italian, International, BBQ, Steaks & Skewers and A German buffet with Roasted Pig. The buffet is open to all and is very reasonably priced at just 499 baht all-inclusive net price. For families, children under 12 years old eat for only 299 baht net.
The Thai Garden Resort is very proud of the personal touch that it offers, and guests have come to appreciate it over the years. All the staff enjoy working at the resort and many of them have been there for a long time, greeting returning guests time and time again. The exceptionally high level of customer satisfaction is reflected on websites such as Trip Advisor.
For more information please call 038 370 614; email: [email protected] or visit their website at www.thaigarden.com