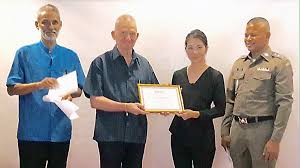 The Pattaya Expats Club – the original foreigners' advice forum since 2001
We are Expats helping Expats
The PATTAYA EXPATS CLUB is the firstlive advice and information service for foreigners in Thailand. PEC celebrated its 18th year in 2019; established in March 2001 with the motto 'Expats Helping Expats – to live safely and legally in Thailand.' We meet every Friday morning at Mercure Hotel, Pattaya 2nd Road, Soi 15 with doors open at 9.50 am for breakfast buffet and news and guest speakers from 11.30 am. All are welcome. We provide visitors and residents quality advice to comply with the laws of the Kingdom, to make their stay here safe, to be a channel for local Thai authorities to the foreign community, plus charitable efforts to the community.
The PEC when founded in Pattaya became the first of its kind in Thailand, growing rapidly through regular weekly meetings and thousands of subscribers to its E-newsletters promoting Pattaya worldwide through our website, www.pattayaexpatsclub.info. Our format has always been informal to attract a wide audience but focused on providing clear advice on themes which are important and practical to help foreigners and their families stay safely and legally in the Kingdom, to meet new friends in the community and to interact in a more culturally sensitive way with all Thais. Our lobby area has display tables from Thai companies (our Sponsors) offering our members free advice – with a Thai law firm, a Thai hospital health check desk, two Thai Insurance companies and a visa / immigration consultancy.
We provide practical information on Thai Law, constant advice on applying for visas and keeping them up to date, how to safely and legally own a house, a car, a condominium or motorcycle. There are feature talks given by notable Doctors to encourage good health and from Insurance experts to ensure foreigners have adequate protection for medical needs, home contents, vehicles etc. We give visitors to Pattaya a better understanding of the Thai culture, so foreign residents can integrate into their adopted second home here.
Club members enjoy a breakfast buffet at the Friday meetings. Featured speakers give presentations and members ask questions and receive answers from experts in their field such as real estate agents, travel agents, bankers, investment consultants, hotel owners, hospitals, school headmasters, lawyers. We have some fun items too – movie people talking about their film careers, 'world exclusives' of major book authors who launch new novels in front of our audience, plus best beaches and islands to visit in the region. We have generous regular coverage given us by Pattaya People Media Group TV Channel to report the PECs weekly features. PPMG news-magazine gives us coverage as do local media to promote club speakers and activities
Our aim is to provide worthwhile informal service to assist foreigners and we have several Telephone Help Lines. We give club members a clear understanding and awareness of their responsibilities in staying in Thailand. We have been consistent in these aims throughout the years and by this hope to draw attention of Thai civic leaders to our service. We hope to be of assistance to Thai authorities and to forge even better links in the future.
For more information call:  Bob: 098 579 9886;  Jahir: 086 394 0863;  Brian: 089 604 3646;  Dan:  092 476 1932.