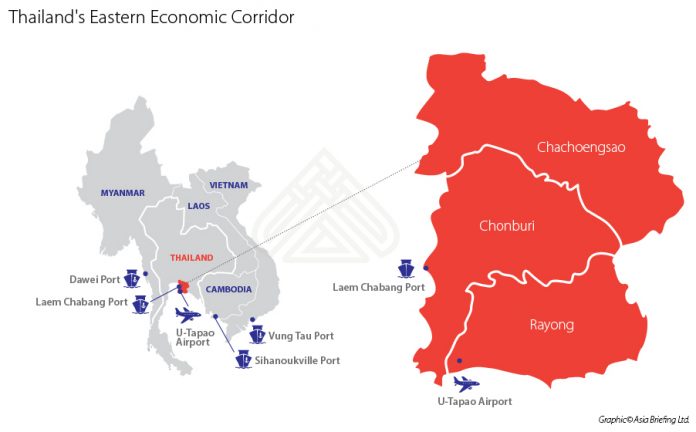 The Industrial Estate Authority of Thailand (IEAT) is expected to approve 18 new plots of land totaling 35,788 rai to be earmarked for new Industrial estates.
It will be a significant increase in activity for Chachoengsao where eight out of the eighteen plots are expected to be given the go-ahead. The other ten will be split between Chonburi, which will have six more sites, and Rayong, which will have the other four.
Ms. Somchint Pilouk, governor of the IEAT was quoted as saying "The plots support new investment flows in EEC locations and the 12 S-curve industries with an eco-friendly concept."
WHA Corporation and Amata are expected be among the major operators of the new industrial estates.
As well, The IEAT has entered into a management agreement with Rojana Industrial Park in order to create the 900 rai Rojana-Chonburi 2 Industrial Estate at Khao Khan Song in Sri Racha district.
Rojana will invest 2.1 billion baht and will share the management with the IEAT. Currently the project is undergoing an environmental impact assessment, but it is expected that approval could come within 2019.
It will be the second co-managed project and will link transport hubs together including the Chonburi expressway, Suvarnabhumi airport and Laem Chabang port. 10,000 new jobs are expected to be created by the introduction of Rojana-Chonburi 2 Industrial Estate as well as investment revenue generation to the tune of 6 billion baht.
Ms. Somchint Pilouk was also quoted as saying, "Rojana will develop the land in roughly one year and the Rojana-Chonburi 2 Industrial Estate will begin operating in 2021."
The project follows the success of the previous Rojana project that sits on 843 rai of land in Laem Chabang.
Ms. Somchit was also quoted as saying, "Rojana owns the whole project in Laem Chabang, while IEAT is the cooperating partner", adding, "All industrial lands are expected to be sold by 2021."
In total, the IEAT runs 55 industrial estates located in 16 different provinces. The total land used for all of them is 110,564 rai, of which 89,100 rai has been sold or leased and the remainder is available for either sale or further leasing.
Another project in the EEC, the third phase of Map Ta Phut port, is one of 5 major projects being undertaken in the region. Signing has been delayed but it is expected to be given the go ahead in the coming month.
Regarding the delay at Map Ta Phut, Ms.Somchit was quoted as saying, "The fourth round of public hearings with local communities is being conducted."
The EEC is expected become a powerhouse of industry as more transport hubs and industrial areas become developed.