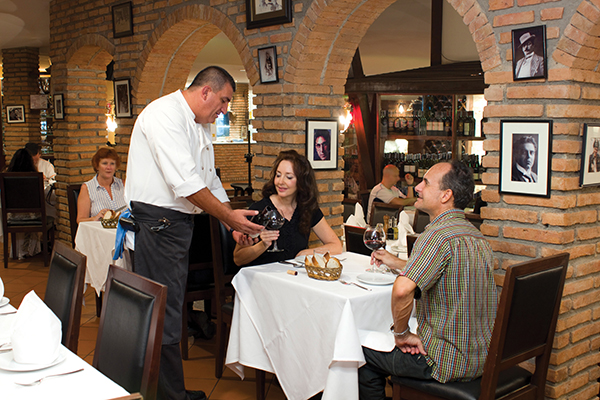 It goes without saying that the Moom Talay Thai and Toscana Italian restaurants attract customers simply because of their wonderful location on Beach Road, looking out over Pattaya Bay, after a few visits it becomes quite discernable that both also attract diners from virtually all corners of the globe.
On any occasion  there might be a group of Australians indulging in a variety of dishes from their extensive menu, while at the next table will be a couple from Singapore sampling the best of the Thai dishes from Moom Talay while also sharing a generous pizza. Nearby them may be a couple of Portuguese expats who have come for a sojourn in Pattaya from their long-time base in Macau.
Elsewhere there will tables of Brits, both expats and holidaymakers alike, a few Americans, some South Koreans, a clutch of Japanese and a boisterous group of Norwegians. Of course there will also be plenty of Italians, from all over Italy, as well as Thais.
In many ways an Italian restaurant is the culinary equivalent of the Irish Pub. Everywhere in the world there seems to be an Irish bar and these places tend to be popular with all nationalities. So too with Italian restaurants. Go almost anywhere and there will be an Italian eatery of some sort as pizza and pasta seem to be almost universally popular.
It could be said that Toscana and Moom Talay are the Irish pub of Pattaya restaurants, especially along the prime tourist attraction of Pattaya Bay. Like the Irish, the Italians tend to be a popular across all nationalities.
Taking into account the international appeal of the two restaurants, the 16-page Moom Talay restaurant menu is written in five languages, including Chinese and Russian, which is surely unique in Pattaya and much further afield.
Mention the Tuscany region of Italy and most people will be aware that it is often represented as the breadbasket of the country, an area of sweeping plains and fertile valleys where traditional farming methods and practices serve to produce some of the finest foods.
There's no doubt the management of Toscana have remained true to their forebears. Owner Luca has steadfastly stuck to the tried and time-honoured methods of his farming heritage. He knows what he needs to do to create a special culinary experience for those diners who truly understand what it is to experience a specific regional cuisine in a foreign setting like Pattaya.
The testimony of this is obvious to see, as year after year the two restaurants keep seeing familiar faces. After all, one of the true tests of any quality restaurant is consistency. If a diner finds a dish or dishes he or she loves, they will come back time and again to indulge their desire for those special tastes. Both Toscana and Moom Talay have some unique dishes on their menu which lend themselves to attracting a loyal and regular clientele.