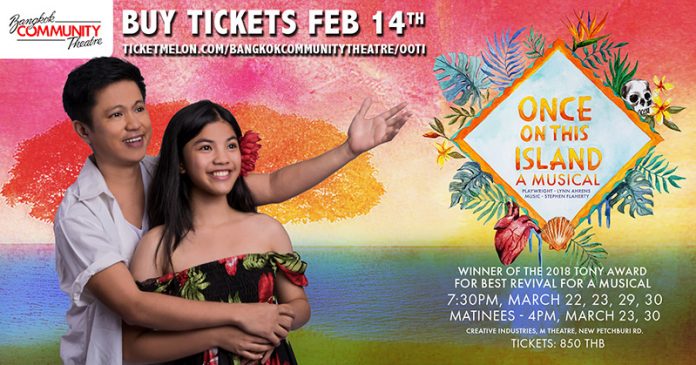 From Broadway to Bangkok, with A Caribbean flair
BCT will open its 2019 season with the Broadway musical Once on this Island. The show sets on a Caribbean island with a catchy Caribbean influenced score, and promises a joyful theatre experience.
'Once on this Island' a one act, ninety-minute musical, opened on Broadway to great acclaim in 1990, and got its Tony Award for best revival of a musical in 2018, competing against revivals of My Fair Lady and Carousel.
Based on the 1985 novel My Love, My Love; or, The Peasant Girl by Rosa Guy, 'Once on this Island' is set in the French Antilles archipelago in the Caribbean Sea. Once on this Island brings the story of a peasant girl on a tropical island, who is guided by the island gods of earth, water, love and death. With their guidance and strength she uses the power of love to bring together people of different social classes and backgrounds.
The story begins as Ti Moune is orphaned by a storm. She is adopted by two loving peasants and she dreams of a life bigger than her own. She falls in love with a boy from the rich side of the Island and heals him after he suffers from a car crash. The power of love guides her to overcome death and to her final destiny; a bit similar to the story of Romeo and Juliet and the Hans Christian Andersen fairy tale The Little Mermaid, in a very different setting.
'Once on this Island' is a joyful, life-life-affirming musical. It promises great fun, fascinating characters, touching moments, and a beautiful lineup of songs. Mama Will Provide – is a rousing number about Ti Moune's journey with Asaka, mother earth, from her home near the sea to the big city where her love lives. The Human Heart is a soaring ballad about the power that binds us one to another. The show opens with the upbeat song We Dance and ends with the inspiring We Tell the Story.
As all BCT's production, also Once on this Island will be performed by a multinational cast:  Ashley Moyles, Bonnie Zellerbach, Celia Barthman, Emilia Clarke, Jay Pangilinan, Kaylee Marie, Kristoffer Cabuyao, Naomi Bactol, Neil Anthony Castillo, Pearl Rapeeporn, Philip Luis, Zipporah Gene.
*************************
Once on this Island
A musical by: Lynn Ahrens (lyrics) and Stephen Flaherty (music).
Directed by: Michael Allman; Produced by: Nimphiya Dhar
When: 7:30pm, March 22, 23, 29 and 30; Matinees 4pm, March 23 and 30
Where: Creative Industries, M Theatre, New Petchburi Rd., Bangkok
Tickets: 850THB at www.bangkokcommunitytheatre.com
Further info: [email protected]
Audience: age 10+